GNU Turns 40 This Coming Week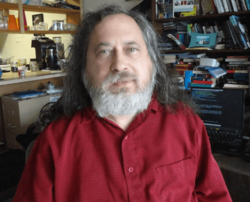 WE are still busy working on the site, but let's not lose sight of the fact that the announcement of GNU turns 40 next week. A 30-year-old Richard Stallman posted a message declaring his intent and here we are, many of us using the GNU system which back then he only envisioned should exist to liberate us from proprietary tyranny.
Speaking of proprietary tyranny, some "modern" software stacks are so complex and they move fast while breaking stuff. One might say that they are Open Source Proprietary Software (OSPS) or proprietary tyranny of another kind -- the kind that systemd became notorious for. WordPress, which amasses pieces of JavaScript and PHP among others (walking on eggshells), is a lot of work to maintain, so many just choose to outsource it rather than install and manage WordPress(.org) on their own -- a subject already discussed yesterday in Tux Machines.
Free software, as per GNU and the FSF (guardian of the GPL), is determined by the "4 Freedoms" criteria. But seeing how bloated software can become over time, we must also assess a piece of software's complexity. It it's perfectly legal to modify and redistribute, how feasible is it in practice to exercise freedom/control over it? How many humans/developers would be required? In the case of Linux, the kernel, it is possible to de-blob it, as Linux-libre does. But that is a mostly automated process (scripting), not a hard fork per se. Linux-libre just follows Linux itself.
4 decades of "4 Freedoms" show the world that the original definition withstood the test of time. Maybe if/when we pass 5 decades there will have already been formal recognition of complexity as impediment (new paradigm), preventing users from exercising true control over some software. Should that factor be a selection criterion for bits of software? █