Who Put Vista 7 Back in HP's Slate Strategy?
Dr. Roy Schestowitz

2010-09-24 21:55:22 UTC
Modified: 2010-09-24 23:29:35 UTC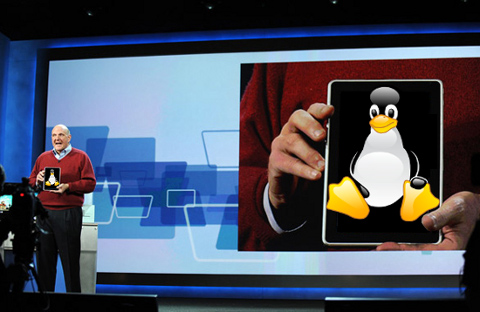 Original photo here ("HP Slate officially alive, ditching Windows 7 for Palm WebOS"), fair use for humour purposes
Summary: Former Microsoft staff seems like a possible reason for HP Slate running Vista 7 (even just in a prototype phase, assuming the new video is authentic)
Ballnux tablets
, which are still a threat (but also somewhat complementary) to GNU/Linux tablets (which Microsoft makes no money from). A
new survey shows that one in four Americans would want an Android/Linux tablet
(sub-notebooks are
another growth area for GNU/Linux
and not for Apple); sadly, only the Ballnux-based Galaxy Tab is named at the start:
With the coming of the Galaxy Tab and possible releases of a number of Android tablets at the end of the year, the question still remains: do most consumers really want or need a tablet device? We have seen the success of the iPad but have yet to see anything really go up against it, Android or otherwise. It's a bit hard to judge sometimes what "real consumers" in the market place want as opposed to us Android fanboys, but a recent Zogby pole may clear some of this up.
Then there is the tablet-class device called "Slate". Watch the following new video of
Vista 7
choking on it:
[an error occurred while processing this directive]
Assuming that it's not fake or just experimental, how come it doesn't
run Linux as promised
? HP deemed Vista 7 unsuitable at one point. A Microsoft booster -- not just GNU/Linux advocates -- says that the
"HP Slate video shows all that's wrong with Windows 7 on tablets"
. He also writes:
But then HP bought Palm, and with it webOS. webOS may be a phone operating system, but ever since news of the purchase came out, there has been widespread conjecture about a webOS-powered tablet. The appeal of webOS on such a device is that webOS is designed around a touch-screen, and built for low-power hardware—ideal for battery life.
As we pointed out throughout the HP-Hurd scandal [
1
,
2
,
3
,
4
], Microsoft has apparently
increased its level of influence inside HP thanks to high-level staff that went there
. Might this explain a return to Vista 7 (see the Windows elements hard-coded on the device)?
⬆