Photo by Alex Dawson, 2002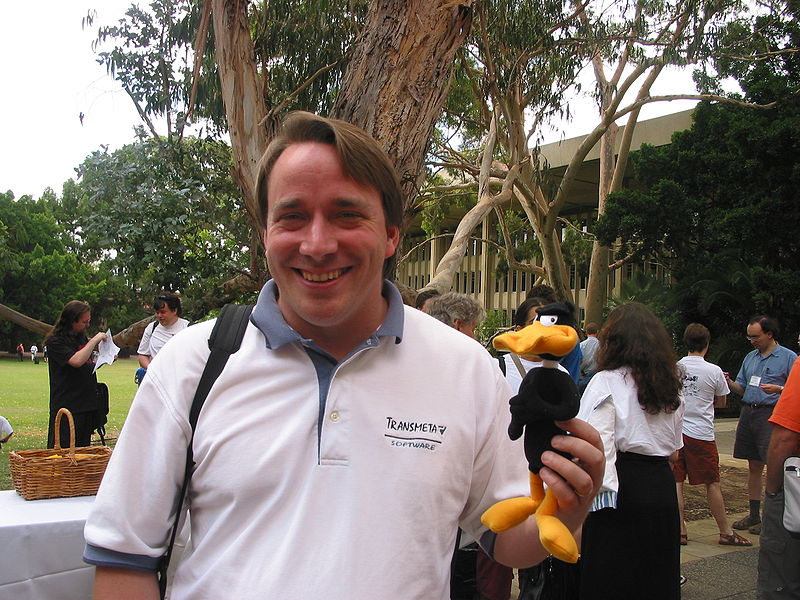 Summary: "Because it really shouldn't be about MS blessings, it should be about the *user* blessing kernel modules," Torvalds explains
THE MAN who habitually dismisses some Microsoft critics proves his older statements to be somewhat hypocritical. He too treats Microsoft exceptionally.
Torvalds
recently made headlines by using strong language and addressing a controversial subject
. It is about
UEFI with restricted boot
and here is some more relevant coverage he generated, helping to raise awareness of the issue:




A push by Red Hat kernel developer David Howells and ex-Red Hat developer Matthew Garrett to get code supporting secure boot merged into the mainline kernel to meet some of Microsoft's requirements has led to a sharp rebuke from Linux creator Linus Torvalds.

Howell made a request for a patchset to be pulled into the mainline kernel last Thursday, writing, "It (the patchset) provides a facility by which keys can be added dynamically to a kernel that is running in secure-boot mode.





Linux guru Linus Torvalds is at it again. After telling Nvidia to go forth and multiply, the outspoken Torvalds has decided to share some of his thoughts on Microsoft's signing techniques in a heated online argument with fellow Linux developers.

The developers were discussing ways of improving the Linux kernel with a bit of code that makes it easier to boot on Windows 8 PCs. The process of booting Linux on PCs shipped with Windows 8 has been complicated due to the widespread use of UEFI firmware with Secure Boot feature enabled. Red Hat developers emailed Torvalds to discuss the addition of new keys to the Linux kernel, which should get around the issue.





Red Hat's Secure Boot support is a case of the company wanting to "deep-throat Microsoft", according to a forthright posting from Linus Torvalds on the Linux kernel developer mailing list. Torvald's comments were made in response to plans by a Red Hat developer to extend Linux support for Secure Boot. The comments have given rise to an ongoing discussion, during which several prominent kernel developers have shared their thoughts on Secure Boot support in Linux.
Moreover, as it turns out, US citizens can now
sign this petition calling for the White House to get involved to tackle the antitrust abuse
(reports suggest that Microsoft's fine for antitrust abuses in Europe
is only weeks away
).
James Bottomley
wrote
about this
in his blog, but being
former Novell staff
who had worked on Microsoft projects, we expect no strong opposition from him. Steven J. Vaughan-Nichols, a Novell-sympathetic writer, wrote
this followup
:
No one, but no one, in the Linux community likes Microsoft's mandated deployment of the Unified Extensible Firmware Interface (UEFI) Secure Boot option in Windows 8 certified PCs. But, how Linux should handle the fixes required to deal with this problem remains a hot-button issue. Now, as the debate continues hot and heavy, Linus Torvalds, Linux's founder and de facto leader, spells out how he thinks Linux should deal with Secure Boot keys.
Swapnil Bhartiya, not a strong critic of Novell because he likes SUSE, sure isn't a fan of what Microsoft is doing here. He is in good company when he
writes along the same lines of Torvalds
, whom he interviewed last year:
There is a heated (heat is a bit colder word) debate going on within the Linux community over how should Linux handle the Microsoft's secure boot keys.

In an ongoing discussing Linus Torvalds has made some suggestions which he believes put users in control of their system and not Microsoft.
Torvalds was sarcastic when saying, "let's please Microsoft by doing idiotic crap approach."
This attitude
is not exactly news
(Torvalds alleges that so-called Secure Boot has nothing to do with security). "Because it really shouldn't be about MS blessings, it should be about the *user* blessing kernel modules," Linus Torvalds believes. He basically agrees with Richard Stallman and the FSF then.
Dr. Garrett
, on the other hand,
continues to push for the agenda that Microsoft hoped for
, facilitating its control over Linux, Here is
part of this whole long discussion where Torvalds says
:
So instead of pleasing microsoft, try to see how we can add real security:

- a distro should sign its own modules AND NOTHING ELSE by default. And it damn well shouldn't allow any other modules to be loaded at all by default, because why the f*ck should it? And what the hell should a Microsoft signature have to do with *anything*?

- before loading any third-party module, you'd better make sure you ask the user for permission. On the console. Not using keys. Nothing like that. Keys will be compromised. Try to limit the damage, but more importantly, let the user be in control.

- encourage things like per-host random keys - with the stupid UEFI checks disabled entirely if required. They are almost certainly going to be *more* secure than depending on some crazy root of trust based on a big company, with key signing authorities that trust anybody with a credit card. Try to teach people about things like that instead. Encourage people to do their own (random) keys, and adding those to their UEFI setups (or not: the whole UEFI thing is more about control than security), and strive to do things like one-time signing with the private key thrown out entirely. IOW try to encourage *that* kind of "we made sure to ask the user very explicitly with big warnings and create his own key for that particular module" security. Real security, not "we control the user" security.

Sure, users will screw that up too. They'll want to load crazy nvidia binary modules etc crap. But make it *their* decision, and under *their* control, instead of trying to tell the world about how this should be blessed by Microsoft.

Because it really shouldn't be about MS blessings, it should be about the *user* blessing kernel modules.

Quite frankly, *you* are what he key-hating crazies were afraid of. You peddle the "control, not security" crap-ware. The whole "MS owns your machine" is *exactly* the wrong way to use keys.
Sam Varghese, consistently an opposer of restricted boot, says that it would
put "Linux is at Microsoft's mercy"
:
Linux companies or organisations that have paid for, and obtained, keys from Microsoft to ensure that their distributions can be booted on secure boot-enabled devices, have to abide by the terms of a contract or else may have their keys revoked.


Whatever some Linux developers with past in Novell may say, at least we know Torvalds' approach is perhaps more similar to the FSF's than his employer's.
⬆