Classic Microsoft: When They Lose They Just Try to Hijack the Winner
Dr. Roy Schestowitz

2020-01-04 18:10:12 UTC
Modified: 2020-01-04 18:10:12 UTC
Related
:
Azure Running GNU/Linux Isn't About 'Love' But About Control
Remember Nokia?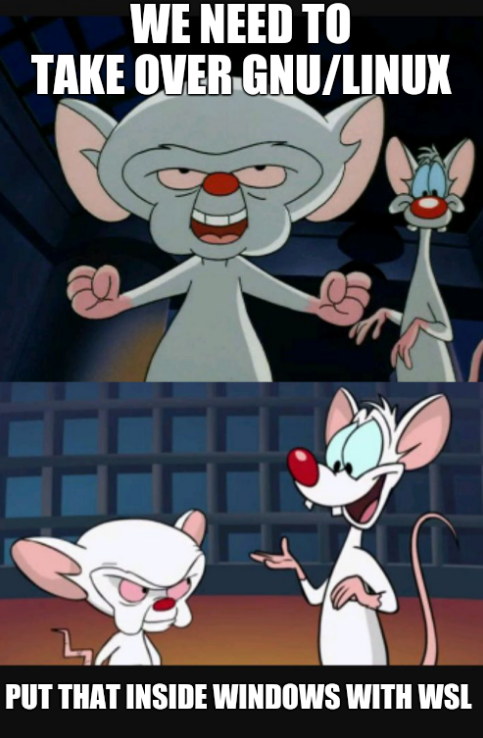 Summary: WSL is not about freedom but about control -- notably about Microsoft controlling (even spying on) the users and controlling GNU/Linux development through licensing agreements if not NDAs while adding Windows-only "extensions"
THE WSL 'trolls' (Microsoft people and Microsoft 'lovers') are going out full force and painting the WSL ploy as desirable to GNU/Linux. We confront them in our IRC channel where they've suddenly appeared, perhaps having identified us as a 'threat' (because we have been writing about it for years).
People have told us lately that it's not only us being targeted by this WSL 'astroturf' (they use pseudonyms and false identities when infiltrating GNU/Linux forums to promote Microsoft). So we would like readers to respond to them not by 'feeding the trolls' but by offering a response to the misinformation. Among our most recent articles on the topic:
Microsoft Staff Repeatedly Refuses to Tell How Many People Use WSL, Defends Patent Extortion and Blackmail of Linux Instead
Don't let Microsoft create the fiction or the illusion that WSL has been successful. It's false. Earlier today a former Microsoft employee reminded us that Microsoft continues to be silent on the matter (refusing to divulge numbers they already have). Even former Microsoft employees insist that Microsoft is lying.
⬆