11.18.10
Gemini version available ♊︎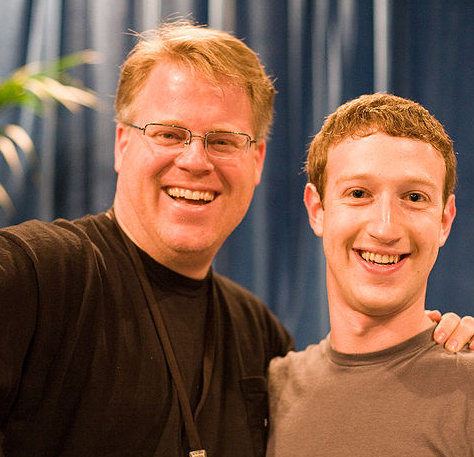 Facebook co-founder Mark Zuckerberg
with former Microsoft evangelist (source: Robert Scoble)
Summary: Over time, Facebook becomes more like a rebranding of Microsoft (another label on Microsoft services, akin to Yahoo! search in America)
Microsoft cannot create decent products. To quote Arno Edelmann, Microsoft's European business security product manager, "[u]sually Microsoft doesn't develop products, we buy products." There are many examples. Hotmail, which failed after Microsoft had acquired it (in an attempt to buy its way into E-mail domination), is falling into oblivion despite overhaul attempts. On the Web, Microsoft continues to lose close to $3 billions every single year. That cannot qualify as a success story, can it? Even Windows figures are faked, but that's another story.
Having found itself well behind the competition in social networks, Microsoft bought part of Facebook a few years back (see our posts about Facebook). Microsoft did attempt to buy the whole of Facebook, but a lot of people do not know this. On an inter-personal basis, Microsoft and Facebook are close friends too and both are patent bullies. Facebook's founder hangs out with the world's biggest patent troll, who is Microsoft's former CTO.
In any case, just so that everyone keeps abreast of the latest developments around Microsoft Office Web Apps, it seems like there's a true Microsoft-Facebook tag-team act which mimics Google Apps/Mail. Earlier this year we warned that Facebook was becoming an enemy of OpenDocument Format (ODF); instead of promoting open standards, Facebook decided to increase Microsoft lock-in and spread it further through its users. Here is news about that:
What Facebook Didn't Mention: Microsoft Office Web Apps Come to New Messaging Platform

[...]

Facebook's newly announced messaging platform will deeply integrate Microsoft's Office Web Apps so that Facebook users can view Word, Excel and PowerPoint attachments without having to leave the site. Rumors about this integration started to make the rounds on the Internet last week. Oddly, though, Facebook didn't mention this integration during today's press conference and makes no mention of it in the official announcement on its corporate blog.
So without buying the whole of Facebook, Microsoft is already dangling Mark Zuckerberg (to whom Facebook users are "dumb fucks") like a marionette, turning those "dumb fucks" as Mark calls them into Microsoft sheep. Glyn Moody has just challenged Mark to remember where he came from.
Microsoft's Office documents are already the dominant formats used around the world – a position that Microsoft has worked long and hard to protect. The rise of ODF as an alternative is a hopeful sign that things can change, but let's not delude ourselves: it is still used by only a small minority, and it is a constant battle to get the format accepted more widely.

That battle just got harder, thanks to Facebook's decision to integrate Microsoft Office formats into Messages in this way. It makes it much easier to share Microsoft documents than those created with OpenOffice/LibreOffice, say. Given the huge following that Facebook has – especially amongst the younger generation – that's a really big problem for free software and its future.

So we need to ask Mark Zuckerberg support open formats, too. Why do I think he might listen? Well, for a start, because of the following statement to be found on the Facebook developers site:

Facebook has been developed from the ground up using open source software.

Facebook might never have been created without the existence of zero-cost open source tools that allowed Zuckerberg and his mates to hack together some code easily and quickly when they came up with their idea. It wouldn't have grown and flourished to its current impressive scale if it had needed to buy ever-more licences for the software that it uses to run its huge infrastructure.
Without Free software, Mark would probably still be in some dormitory or a drop-out after the disciplinary committee chastised and maybe prosecuted him for his offences on campus (this is a story which Facebook has successfully buried over the years, keeping it off the public eye).
Being a prisoner of Facebook increasingly seems like being stuck in a mythical "Hotmail 2.0″ that is just another platform with which Microsoft can manipulate and spy on (yes, Facebook gives its data to Microsoft) many Web users. Professor Eben Moglen is very concerned about Facebook, which he views as a top threat to freedom. █
Permalink

Send this to a friend