12.29.10
Gemini version available ♊︎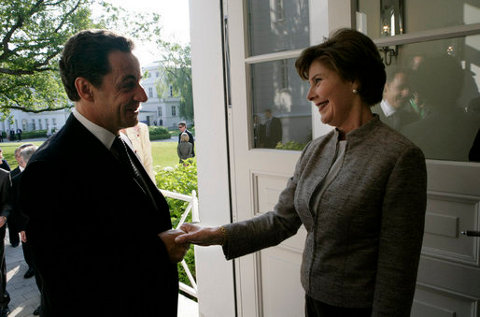 Nicolas Sarkozy with Laura Bush
Summary: Cablegate/Wikileaks material reveals that Business Software Alliance (BSA) employees can be Microsoft employees simultaneously; new French law may tax Linux-powered devices but not Windows-based ones
EARLIER this year we gave many examples of the BSA attacking Free software and we assumed that the BSA was merely a front group for Microsoft. But based on this newly-leaked cable from Spain, one can be IP Development Director at Microsoft and Vice President at the BSA at the same time. Does that explain much? Let's remember that the BSA delivers a lot of propaganda for political reasons in copyright too, along with IDC (see recent examples in this Wiki page).
It is not too shocking to find that in France, where Sarkozy enjoys an intimate relationship with Microsoft executives and promotes their agenda, there is a ridiculous law proposal which may echo their friends from Canada (so-called 'hypePod tax') but guess who gets the break? That's right, Microsoft:
France Wants To Extend Private Copying Levy To Tablets… But Not If They Run Microsoft Windows

Kurata points us to the news that French politicians are debating extending the "you must be a criminal" private copying levy to tablet computers — but, oddly, the new levy would not apply to tablets running Windows (Google translation from the original French). The tax would apply to any iPad or Android-based device, but apparently Windows tablets won't be counted, since they'll be classified as full computers, while the other tablets are in this new taxable category.
This seems like a pretty major scandal. A few minutes ago I got a pointer to it via the Fsuk-manchester mailing list, where someone wrote: "What does everyone think of this? Basically, the French government seem to be assuming that people buying tablets with a non-Windows OS will pirate it and install it anyway and so are considering charging a tax on all non-Windows tablets in a similar fashion to the tax on CDs. I can see this being the start of a slippery slope if it gets passed, does anyone know if this is likely to happen?"
In addition, Microsoft is trying to collect "Linux tax" for unnamed patents in all Android devices. Shame on them. It's racketeering [1, 2, 3, 4, 5, 6, 7]. Our reader Wayne wrote to Glyn Moody in Identi.ca: "Sure I saw evidence. The attempt to exempt Windows OS tablets is proof… Rather than Vince Cable or Jeremy Hunt, they should hire you to make the BSkyB decision… Not a circular argument. I've read a lot of the Comes documents on Groklaw and this is how Microsoft operates… If there's one thing I've learned about #Microsoft it's that assuming the worst is your best case scenario… Fool me once, shame on you. Fool me twice, shame on me. The only way to handle Microsoft" (some of these message framed in another context). █
Permalink

Send this to a friend