05.10.11
Gemini version available ♊︎
Summary: Microsoft's previously hired attorney, Edward J. Naughton, finds a new platform by which to paint Android as disrespectful of copyrights while Microsoft keeps suing Android over patents and 'Patent Hawk' loses one
A Groklaw and Techrights regular, Wayne Borean. recently became a regular contributor at Semi Accurate, which is an excellent Web site. He is still addressing the "Patent Wars" as he calls them against Google. The writers at Semi Accurate tend to favour GNU/Linux, which the Establishment — iincluding Huff & Puff [1, 2, 3] — tends to look at with suspicion and distrust. The American tabloid Huff & Puff (aka Huffington Post, now owned by America Online) keeps showing that accuracy does not matter there. It's like Fox for liberals, all about the ratings. As Groklaw put it the other day, "Huffington Post Republishes Debunked Claims About Android". To quote the complaint in full:
Well, this is embarrassing for Huffington Post. They have republished an article by Microsoft-linked attorney Edward J. Naughton from March, which presented claims that Google had violated the GPL with Android. This was thoroughly debunked by Brian Proffitt here. Brian asked Linus about the matter, and Linus said this:

"It seems totally bogus. We've always made it very clear that the kernel system call interfaces do not in any way result in a derived work as per the GPL, and the kernel details are exported through the kernel headers to all the normal glibc interfaces too….

"Of course, we do have our own 'internal' headers too, and we have stuff that is meant to be relevant only for the kernel. But there would be no point for Google to even use those, since they are useless outside of the kernel, so I don't see what the whole brouhaha would be all about. Except if it's somebody politically motivated (or motivated by some need of attention)," he continued."

Others, including me, pointed out that Naughton seemed to be trying to hide his association with Microsoft. All in all, I'd say Huffington Post should probably hire more editors.
Google has come under many legal attacks recently — attacks that seek to portray Android as "illegal" or at least "naughty". Google is trying to buy patents or maybe even build a pool to counter that. "BlackBerry maker Research In Motion (TSX:RIM) could enter the bidding for Nortel's remaining wireless patents," says The Canadian Press, "either by itself or as part of a consortium that would try to snatch the prize from Google, a patent expert said Monday."
Here is Bloomberg's new portrayal of Linux companies (which it rarely covers) in an article with the charged/loaded term "Intellectual Property". They have many articles like this which contain the term Intellectual Property in the headline. "Red Hat, Google, Adidas, PepsiCo: Intellectual Property," it says in the headline and the relevant part says:
Red Hat Chief Says Company Sometimes Pays Instead of Fighting

Red Hat Inc. (RHT)'s Chief Executive Officer James M. Whitehurst told Network World that his Raleigh, North Carolina-based company sometimes settles with patent trolls because it's not worth the expense to fight what may be invalid patent claims.

Whitehurst said some software patent cases brought in the Eastern District of Texas come before juries that are "not technically savvy" and are so complicated that even he, with a degree in computer science, finds them far over his head, according to Network world.

Whitehurst, an opponent of software patents, told Network World such patents prevent companies from moving into some areas of technology because they're fearful of litigation and licensing fees.

Some patent claims the company has faced are "ridiculous," merely covering something that shows up on common websites, Network World reported Whitehurst saying.
Whitehurst was complaining also about trolls who had connections with/to Microsoft.
'Patent Hawk'/Odom, who used to work for Microsoft, has just had a patent of his invalidated.
Gary Odom runs his own patent search firm as well as his own patent law blog – the Patent Prospector – where he provides piquant comments on patent law and practice. Odom is also a patent holder. His Patent No. 7,363,592 is directed toward a modification of the "toolbar" and "tool groups" that are familiar aspects of most computer software displays.
Patents are a real problem for GNU and Linux and we must strive to end software patents. They should all be invalidated and put in the wastebasket. █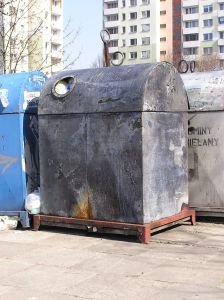 Permalink

Send this to a friend