07.06.13
Gemini version available ♊︎
The slandering of copyleft just two degrees away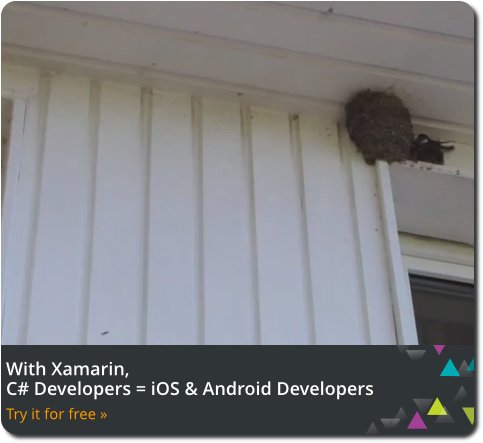 A new paid ad in YouTube for Xamarin, an "open core" company serving Microsoft interests
Summary: The anti-copyleft camp grows with new additions and gradually-accumulating evidence from Black Duck, OpenLogic, and Outercurve (Microsoft proxy)
The head of a proprietary software company, not a FOSS proponent by any stretch of imagination, wrote the following article a few days ago. It got published in a high-profile news site:
Open source software is now a massive force in technology today. Yet many of us aren't aware of the reach and influence open source has on our personal and professional lives.
This was written by the head of Black Duck, a company created by a guy from Microsoft. This is a proprietary software company which collects software patents and defends this practice, too. Another company whose head is from Microsoft says that "Monty Widenius, a primary author of MySQL, argues that typical open source licensing is a problem for entrepreneurs, and that a change is needed."
This is subverting copyleft. The CTO and Founder of OpenLogic asks himself, "Change OSS Licenses to Make More Money?"
Using terms like "commercial license" to mean proprietary he concludes: "Even though OpenLogic provides support to enterprises in tracking and managing open source requests, approvals, policies, and governance, and we could certainly assist in automating processes around "business source" clock expirations, I hope – and expect – the impractical idea of "business source" will die on the vine."
Remember that Monty worked for Microsoft, even if briefly. The disdain of the GPL there should not be all that shocking.
So basically the above firms don't promote FOSS, they just provide advice on use of FOSS code. Steven L. Grandchamp, the President and CEO of the latter firm, comes from Microsoft, unlike the CTO. What we generally found is, both of these firms usually advise against copyleft. We gave plenty of examples. These firms are becoming parasites whose main goal is to discourage developers who choose a GPL-like licence. Joining those firms are other Microsoft proxies like Outercurve, which has just gotten itself another person qualified to antagonise copyleft. "Jagielski takes over the role of President from Sam Ramji of Apigee, who held the position for the past three years," Steven J. Vaughan-Nichols says. His article's summary is: "The open-source software foundation announced that Jim Jagielski, co-founder of the Apache Foundation and a Red Hat consulting software engineer, would be taking over as its President."
The predecessor was a malicious mole inside the FOSS community [1, 2, 3, 4, 5, 6, 7, 8, 9, 10, 11, 12, 13] and we can expect Jagielski to serve the Microsoft agenda of ending copyleft and weakening the likes of the FSF.
Those who believe that Microsoft cares about FOSS ought to know that Microsoft cannot stand the "f word" in FOSS. Microsoft is just trying to change FOSS, not embrace it. And at the core Microsoft wants proprietary software like Windows and Excel. It is not hard to see that. The evidence is too strong. █
"I would love to see all open source innovation happen on top of Windows."
–Steve Ballmer, Microsoft CEO
Permalink

Send this to a friend