11.28.13
Gemini version available ♊︎
Giving thanks to GNU and Linux this Thanksgiving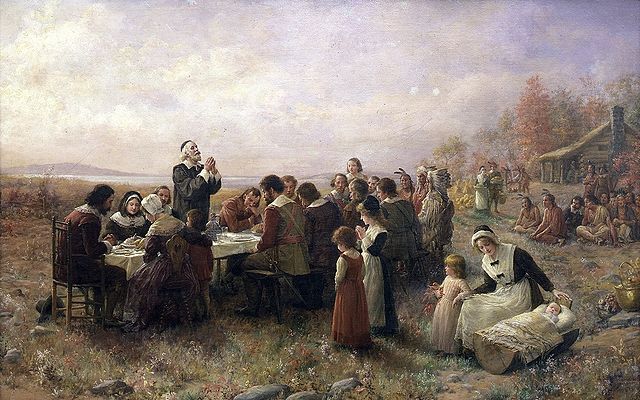 Summary: People who wish to buy devices and computers with GNU and/or Linux preinstalled this Thanksgiving may find it very easy
The good folks from Phoronix [1] and OpenSource.com [2] remind us that we can buy Linux- and Open Source-based (respectively) gifts this Friday. SJVN over at ZDNet/CBS (with more impact on IDG) highlights Linux Black Friday deals [3,4] (observed in the United States, Canada and Mexico, according to Wikipedia).
The matter of fact is, many gadgets and computers now run Linux. The GNU and/or Linux is not even being advertised on the products, it's just to be taken for granted.
Back in October a good point was made by a writer who argued that "[t]he main barrier to GNU/Linux adoption is lack of OEM support" [5]. Now that XP era officially ends [6,7] (no support) there are huge opportunities for GNU/Linux on desktops/laptops and GNU/Linux preinstalls are becoming common [8-12] (except the brands "GNU" and "Linux"). There were no "Missed Opportunities" as some pundits put it [13], there were just Microsoft bribes that got used to slow down this trend (notably below-zero-cost XP for sub-notebooks). "Microsoft [is] in a real panic over Chromebooks," said iophk in IRC this morning, noting that based on this article, "Redmond has hired the stars of a reality television show called Pawn Stars to help with its anti-Google Scroogled campaign."
Microsoft currently spreads anti-Google lies in British radio, showing its hypocrisy over privacy (Microsoft should be reported to the ASA over this), hiding from the public its own special relationship with the NSA. This whole anti-Chromebook FUD helps confirm that Microsoft is truly desperate and worried about the growth of GNU/Linux as a preinstalled platform. █
Related/contextual items from the news:
We've searched the Internet and consulted with the open source geeks in our lives to identify some of 2013′s coolest open source-related gifts for the holidays. We've found something for everyone's budget from big (a LulzBot TAZ 2 3D printer!) to small (who doesn't need a free download of Cards Against Humanity?), and everything in between.

Let's look at some of the best Linux-based gadgets available this Black Friday.

Ken Starks of Reglue recently published a thought-provoking entry on his blog, The Blog of Helios, suggesting that the barrier to Free Software adoption is bad documentation. He asserts that the lack of quality documentation is due to a philosophical approach to documentation writing, within the community, that he calls "good enough." By this, he appears to mean that document authors are writing to an audience similar to themselves, ie. people who are very experienced and grok most of what is being written.

While the problem he describes is common practice and it is a problem for the adoption of free software by newbies, it is not the main barrier to the propagation of GNU/Linux. Although good documentation is important, the main reason GNU isn't more popular is lack of OEM support.

Last month, I wrote about the massive 72,000-PC migration from Windows XP to Ubuntu Linux being undertaken by the Gendarmerie Nationale, the French police force.

In the final installment of the series, Dave Lane writes on coping with diversity in a FOSS environment.

C720P is powered by Intel Celeron 2955U (Haswell), has 2GB DDR3 RAM and comes with 32GB SSD. The most notable feature of the device is its 11.6-inch ComfyView HD 'touch-screen' display that has a 1366×768 resolution.

LinuxCertified Inc introduced the L1 Touch 14.1″ High Resolution, Full HD Touch Display – Exclusive High Performance Linux Ultrabook pre-installed with Ubuntu or Fedora Linux. The L1 Touch is one of the ultralight, ultrathin, yet powerful Linux Ultrabook designed for legendary performance on the go, whether to another meeting or another country, you sacrifice nothing in return.

There are many benefits of installing Linux on your PC or laptop. When selecting a new laptop that can support Linux, there are not many that can perform efficiently with a Linux OS. This poses a bit of a problem for people who like to use open-source software as Windows 8 prevents dual-booting, which means you cannot have two OSes running at the same time.

Will the low, low, low watershed price of Acer's new Chromebook spark a price war or will the unit remain an outlier? And, will the HP Chromebook 11′s charger problems hurt the budding market for Web-centric, Chrome-OS based laptops? With the holiday buying season nearly here, it will be interesting to see how other Chromebook suppliers ASUS, Lenovo and Toshiba respond to Acer's move and HP's troubles.

I've always said that the two biggest benefits of running a Linux distribution over a proprietary operating system are: freedom of choice and the Linux community. Despite these advantages, Linux on the desktop needs work in one key area: seizing great opportunities.

Two huge opportunities for the Linux desktop right now are the end of Windows XP support and the less than amazing reception of Windows 8 by casual users. In this article, I'll explore why I believe Windows XP and Windows 8 are fantastic opportunities for an increase in Linux adoption.
Permalink

Send this to a friend