01.07.14
Gemini version available ♊︎
Joaquin Almunia, who is closely observed by the NSA (under the pretext of "terrorism"), won't buy Microsoft's complaints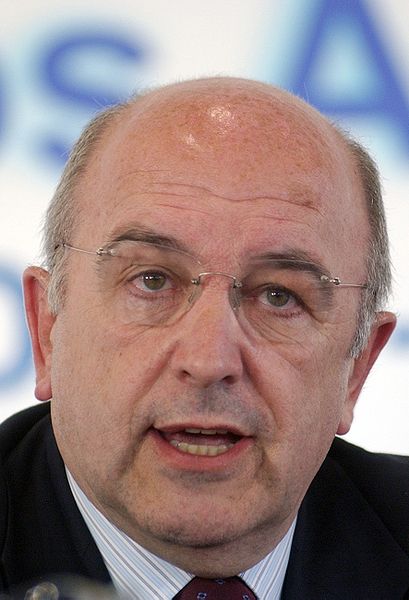 Photo by Agência Brasil
Summary: Android, which incorporates Linux, is truly unstoppable, so Microsoft resorts to desperate measures that it previously used to suppress GNU/Linux adoption
TO MICROSOFT, Android is no joking matter and not a platform to be ridiculed (Microsoft is well past the stage of ridicule). Microsoft now uses proxies such as Nokia (via additional proxies) for patent assaults and even antitrust assaults against Android (it's not going to work in Europe because of obviousness and hypocrisy).
Why should Microsoft be so terrified and nervous about Android?
Well, Android is now moving up to the desktop, Microsoft's main area of illegally-obtained domination. "HP takes Android PCs commercial," said one ZDNet journalist [1] (journalists are rare at ZDNet, as most are trolls, moles, and even existing Microsoft staff), adding to what his colleague said about Lenovo [2]. Another article asked: "Could an Android desktop replace your Windows PC?" [3]
In addition, Android is getting huge traction inside cars [4-7] (Western companies), not to mention tablets [8], cameras [9], and smartwatches [10] (mostly east Asian companies). All that Microsoft can do is try to tax those companies (as it does especially in east Asia) and try dropping the price of Windows to zero [11], essentially rendering its bogus antitrust complaints against Android hypocritical.
It has been quite gratifying to see Microsoft resorting to desperate measures like these. When German cars run Linux (Android) [12-13], Acer turns to Android desktops [14], longtime Linux foes like NVIDIA shift attention to Linux (Android) [15] and "fragmentation" FUD becomes too weak to be used [16] (CyanogenMod is an alternative option for Android devices, not a fork [17]) it is clear that Android is only growing. There's no turning back now. It even starts occupying desktops, cars, kitchens, living rooms, etc. It is already dominant in phones (new example in [18-20]) and in tablets (examples in [21-24]). Muktware covers a good range of new products [25-28] and on the applications side too there is a lot to be found [29]. The wide range of cutting-edge applications which are designed for Android would be probably the reasons that some companies now seriously consider Android a desktop-ready platform. There's not much Microsoft can do now; it lost its inertia. █
Related/contextual items from the news:
The move, outlined at the Consumer Electronics Show 2014, comes just a few hours after Lenovo launched an Android all-in-one designed for the living room. HP's Slate Pro AiO will run Android 4.3 with an Nvidia Tegra 4 quad-core processor. For good measure, HP is including Kingsoft Office Suite, Box storage and Citrix Receiver for Windows application support.

Lenovo on Sunday rolled out an Android all-in-one home computer designed to be a living room multimedia PC. Should Android-powered PCs do well it would further disrupt the PC market and splinter the operating system selection a bit more.

Android as a PC operating system isn't a new idea. Samsung announced a dual-boot Windows 8.x/Android convertible tablet, the Ativ Q, in June 2013. There are also rumors that Intel and its partners will be announcing "PC Plus" devices that will run Android apps on top of Windows 8.1, ala Bluestacks, at CES. HP and Lenovo have a more radical idea: Replace Windows entirely with Android on the desktop.

The search giant has created a new organisation, with the backing of several of the world's largest car makers, to promote the Android operating system as a common standard for in-car computers

Google and a number of automakers are planning to bring Android to cars with the launch of a new group called the Open Automotive Alliance. The alliance consists of Google, GM, Honda, Audi, Hyundai, and chipmaker Nvidia, and will focus on bringing the successful mobile operating system to in-car entertainment systems "in a way that is purpose built for cars." The first cars with Android integration are planned for launch by the end of 2014.

Based on a tidbit from an unnamed insider, SamMobile said on Friday that Samsung is prepping three Pro tablets as well as a lite version of the Galaxy Tab 3. The pro lineup would include the Galaxy Tab Pro 8.4, the Galaxy Tab Pro 10.1, and the Galaxy Note Pro 12.2.

Samsung is unveiling the Galaxy Camera 2 today, its second take on the idea of a truly smart point-and-shoot. Like its predecessor, the Galaxy Camera 2 runs Android, has wireless connectivity, and is operated primarily through controls on a large, 4.8-inch touchscreen. It's still designed around making photos easy to share and edit using Android apps, but this time around, Samsung is promising a camera that can take even better photos in the first place — potentially making up for one of its predecessor's weakest points.

This can only be viewed as a seriously desperate attempt by Microsoft to grasp at any straw left within reach. Google and Apple have both hit Microsoft hard by providing free operating systems, and Microsoft is flailing around trying to figure out how to become relevant again.

Android is everywhere, it is currently powering lot of other electronic devices. The OS that started with mobile devices, is now slowly making it's way into automobiles. Google has joined hands with german automaker, Audi to develop in car entertainment and information system based on Android for their cars.

This year at CES, Acer is introducing two new desktops – yes, you read that correctly, desktops – running the wildly successful variant of Linux known as Android. They're cleverly positioning these exactly as I've been predicting for a long time: as monitors. They're monitors with video inputs that the luddites can connect to a computer running Windows 8, complete with touchscreen input. But they also have a full Android stack available, which will operate independently with no external computer attached.

Nvidia's big announcement for CES 2014 was, as expected, the fifth generation of its Tegra mobile processor. It's such a momentous step forward for the company, however, that it's getting a whole new designation in being called the Tegra K1. That's because it implements the Kepler architecture, which underpins Nvidia's desktop graphics card lineup, meaning you're literally getting desktop-class graphics technology in your mobile processor.

Android 4.3 was released to Nexus devices a little over a month ago, but, as is usual with Android updates, it's taking much longer to roll out the general public. Right now, a little over six percent of Android users have the latest version. And if you pay attention to the various Android forums out there, you may have noticed something: no one cares.

CyanogenMod is going strong, the team has brought support to all major flagship devices of 2013 from different manufacturers. Samsung Galaxy S4, HTC One, LG G2, Moto X and Nexus 5 makes the list of supported devices. You might have noticed Samsung Galaxy Note 3 missing from the list; well, not anymore, a recent post on the official Google+ page of CyanogenMod says that CyanogenMod source code for Note 3 is now available for download, nightlies are coming soon.

The Handheld Group launched the Nautiz X1, a rugged, 4-inch smartphone with Android 4.0, a 15mm profile, 180-gram weight, and IP67 water- and dustproofing.

DreamWorks has partnered with Fuhu, the company responsible for the Nabi line of tablets, to produce an Android tablet for kids. The 8-inch Dreamtab will cost "under $300," according to the New York Times, and will feature regularly updated original content based on DreamWorks characters. The content will be tailored for tablets, and will automatically arrive on Dreamtabs ready for consumption. Unlike many mobile games based on movies and TV, the content isn't being created by a third party, but instead is being produced in-house.

The Android computer within the TA272 HUL runs on an Nvidia Tegra 4 quad-core processor, which is still one of the fastest ARM SoCs around. The Tegra 4 features four Cortex-A15 cores and a 72-core GeForce GPU (graphics processing unit). Other TA272 HUL features include 16GB of internal storage, dual-mode WiFi, HDMI and DisplayPorts, and a USB 3.0 port for game controllers and other peripherals.

Intel has big Android ambitions for 2014. The chipmaker's points of focus for the year ahead include 64-bit processing power and more tablets.

When you look at existing Android tablets, they are all basically the same with the exception of Lenovo's Yoga 8 and 10. They are thin, light slates with roughly equivalent processors and memory. They have memory slots to augment system storage, and the typical audio/video ports.
Permalink

Send this to a friend