12.16.14
Gemini version available ♊︎
Gates and his friend are not having the last laugh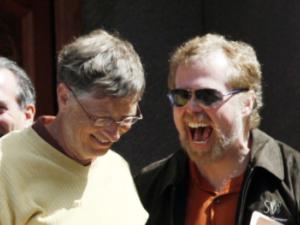 Summary: Intellectual Ventures founder leaves after an exceptionally large round of layoffs, despite recent subsidies from Sony and Microsoft
As noted in the previous post, software patents are gradually going away (if trends are to be judged). Not too long ago we showed how Intellectual Ventures laid off much of its staff after the Alice ruling (amid other ongoing issues). The layoffs were widely reported on and now we learn that Detkin is leaving while saying that "market is tough right now". It is hilarious because he refers to extortion as a "market". The news about his departure is excellent news, but he probably won't go to prison for extortion and a pyramid scheme.
Here is the word from the site which targets trolls but not patent scope:
Here's some schadenfreude for your Monday: seems that Peter Detkin is leaving Intellectual Ventures. As I noted about a year ago, IV has been having a tough time, although it's not clear why Detkin is stepping down.
It is worth noting that Sony and Microsoft recently paid more money to Intellectual Ventures in order to keep it afloat. It is also worth noting that Microsoft and Sony share investments in other massive patent trolls and they also share a role in crimes, outlined in part by [1,2,3] (below) and revelations about Sony threatening journalists while launching DDOS attacks. As Will Hill put it the other day:
Inside the Perception Management and Censorship Machine: The Sony Crack Yields Evidence of More Sony Criminal Conduct

Techdirt reports political corruption and bribery against Google by all the major movie studios, all missed by the incompetence or malice of The Verge, a Microsoft mouthpiece. Big publishers are insatiable censors interested only in maintaining their dominant position as determiners of world culture. Google's efforts to please them only served evil.

The Microsoft press also focuses on Hollywood celebrities and personalized trivia. While it's nice to learn that Sony executives are racist pigs with a 0.01% sense of privilege and power, hundreds of articles like this will pollute the name space and make it difficult to find real news later.

email exchanges also included racially insensitive remarks about President Obama and derisive comments about Hollywood heavyweights like Kevin Hart and Adam Sandler.

Microsoft often pollutes name spaces and is probably coming to the rescue of their big publisher pals. Microsoft is also persistent censorship threat. They are the biggest issuer of DMCA take down requests, a prolific briber of public officials, university professors, and they created an entire search engine by spying on Windows users to know what results scrape from Google. If you want to know just how dishonest a company they are read their training manuals about subverting the press [2]

Sony themselves are using every botnet and cracking tool at their disposal to stop people from sharing their leaked emails. Amazon Web Services is also being used to censor the files. It's not about movies, it's about the embarrassment of power.

The company is using hundreds of computers in Asia to execute what's known as a denial of service attack on sites where its pilfered data is available … Sony is using Amazon Web Services, the Internet retailer's cloud computing unit, which operates data centers in Tokyo and Singapore, to carry out the counterattack … individuals who attempted to access the torrent file encountered bogus "seeds" — or computers — that sapped the resources of their software …

There's a great deal of fear mongering and BS going on. While the attack was typical Windows malware, the FBI is reported to say it's really sophisticated and that 90% of businesses and governments are open to similar attacks. If you don't use Windows, you don't have to worry about this one. The FBI also says there is no connection to North Korea, but that's being brought up about as often as Iraqi weapons of mass destruction.

Sony is a criminal company as has been obvious since their nasty music CD root kit fiasco. Not only did they root millions of computers, which must have included sensitive "protected" military, government and health care systems, they committed criminal copyright infringement by using GNU software to make it. As Richard Stallman noted at the time,

Sony didn't comply with all that [the GPL]. That's commercial copyright infringement, which is a felony. They're both felonies, but Sony wasn't prosecuted because the government understands that the purpose of the government and the law is to maintain the power of those companies over us, not to help defend our freedom in any way.

If you did not believe him then, Snowden and other brave people are providing you with plenty of proof.
One more area where Sony and Microsoft intersect is patent attacks on Google, among other attacks of other types. See the new report titled "Leaked Emails Reveal MPAA Plans To Pay Elected Officials To Attack Google". A lot of companies, including Facebook which uses the same lobbyists as Microsoft, pressure politicians to harm Google, a steward or guardian of some important FOSS projects, including Linux-based operating systems.
In other news from the above site (the original is unfortunately behind a paywall), there is a new breed of troll which Matt Levy explains as follows:
Here's the scenario: a patent troll files a suit (or suits) and wins a big judgment. Another company then files an inter partes review petition with the PTAB against the patent troll's patent and demands a payoff from the patent troll in exchange for withdrawing the petition. If the troll doesn't pay, it risks losing its patent in the IPR.

I would be more upset about this if I could stop laughing, although it's hardly a positive development. It can't be good to have more trolls, even if their victims are patent trolls. Unless of course this new twist helps spotlight dysfunctionality in the patent system for the new Congress.
It's like extortion against extortion and it is not going to work (blackmail is inherently a problem). It's like trying to extinguish terrorism using terrorism. █
Related/contextual items from the news:
Every year, legal representatives from seven of the biggest movie studios in the country gather in Sherman Oaks, California to talk about all things anti-piracy. Which isn't surprising; it's their livelihood, after all. But what does leaves a sour taste in your mouth is their plan to spread the DMCA-dispensing gospel: With shadowy back room dealings and skewed facts.

According to an email in the leaked inbox of Sony Pictures General Counsel Leah Weil, the meeting is facilitated by the Motion Picture Association of America (MPAA) as a way for the top lawyers at Sony, Time Warner, Viacom, Paramount, Disney, NBC Universal, and Fox to put their heads together and talk global strategy.

As leaks from the recent Sony hack continue to make headlines and company executives apologize for insensitive comments made in exposed emails, we still don't know how the hack occurred or the exact nature of the demands made by the attackers. But we've learned a bit about Sony's security practices. And we've learned that the attackers may have tried to extort Sony before releasing its secrets. We've also learned that attempts by Sony to rally public support from rival studios has failed.

On Sunday, a lawyer from Sony Pictures Entertainment sent a strongly-worded letter to news organizations, including The New York Times and Hollywood Reporter, demanding that they not report on the vast quantity of data in the Sony leak.
Permalink

Send this to a friend