05.10.16
Gemini version available ♊︎
They want everyone to believe that nothing can stop the antidemocratic UPC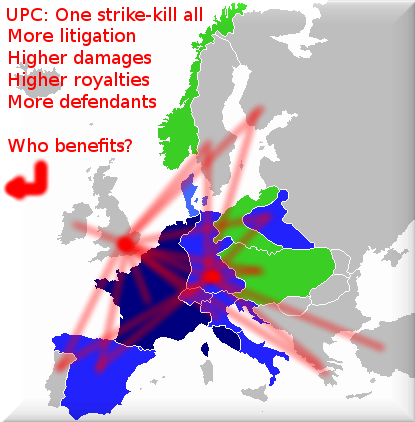 Summary: The Unified Patent Court coup, or the effort to push the unitary patent into Europe (using all sorts of different names and false claims), is progressing nicely if the self-fulfilling prophecy attempts are to be believed
WHENEVER we write about technical problems with the EPO we foresee it adopting the low standards of the USPTO (in terms of examination), which may also mean software patents in Europe. One emerging tactic for bringing about software patents is FRAND, which was mentioned in the previous post. Another is the UPC, which just like TPP threatens to bring software patents into Europe (the technicalities of this process were explained here many times before, including yesterday).
The Mirage of Appeals and/or Oppositions (for the Rich)
One problem we have is lack of information about the UPC. As we put it earlier this year, "The Media is Still Awash With Unitary Patent (UPC) Misinformation" and this is still the case. It should not be surprising given the fashion in which EPO officials and European patent lawyers habitually spread deceptive claims. NLO currently repeats EPO lies/spin regarding so-called 'results' [1, 2, 3] or other such statistics that are not complete. To quote: "Opposition before the European Patent Office (EPO) is a powerful tool for challenging the validity of a granted European patent. It is a way of obtaining a central decision of a technically qualified board that applies in all countries in which the patent is valid, thereby saving on litigation costs before individual national courts. Opposition success rates are high. In its most recent annual report (2015), the EPO revealed the chances of having a patent revoked (31%), maintained in amended form (38%) or maintained as granted (31%); 69% of oppositions resulted in a modification in the scope of protection of the challenged patent."
This is similar to PTAB in the US (inter parte reviews), but this overlooks the fact that this process is expensive and laborious. Small patent developers, for example, have neither the time/money nor motivation to pursue such a process. This means that this status quo remains heavily biased and thoroughly tilted against SMEs. Moreover, consider the UPC's likely impact on boards; they could soon be rendered obsolete.
Pretense (or Self-Fulfilling Prophecy) of Italian UPC Ratification
Now, consider what we wrote yesterday about Italian rumours regarding the UPC. The EPO, based on today's marketing, wants everyone to believe that UPC is good. It's not. We wrote about the UPC earlier this month in order to shed light on escalation in such propaganda tactics and now we see even WIPR acting upon hearsay, basing an entire article on patent lawyers who have an agenda and are thus not exactly objective a source for this, as we explained the other day. "According to Trevisan & Cuonzo lawyer Valerio Meucci," wrote the author to a large audience, "the minister of foreign affairs and international cooperation, Paolo Gentiloni, proposed the approval of the draft bill, which the government accepted."
This is a big mistake (if true at all). Italy opposed this for more than half a decade and there were good reasons for this. Some pro-patents people are now spreading this rumour around (they deny bias even though they describe their Twitter account as "Follow us for latest news and developments on European patent law and key milestones on the road to the Unified Patent Court") and one person wrote: "#Italy takes step to ratify #unifiedpatentcourt agreement http://bit.ly/1WUZG3a #upc #ratification"
Based on cited articles [1, 2], there is now a press release. To quote one author's account of it: "According to the official press release, Italy's ratification of the Unified Patent Court Agreement will help to fight the entry into the European Union of counterfeit goods."
But this does not actually imply ratification and the press release tells an outright lie, as was the case with TPP and TTIP. This mirrors the recent trend of so-called 'trade' deals, which are shrouded in secrecy and benefit from misleading press coverage (if any at all).
UPC Bad for SMEs
The UPC would work against SMEs, even based on a poll conducted by sites which target patent lawyers and other such maximalists. To quote Nordic Patent (connected to Kongstad): "The polls are in, a majority of @ManagingIP followers think the #UPC and #UnitaryPatent are bad for European #SMEs."
Here is what Managing IP (MIP) wrote: "Indeed: 56% say #UPC #UnitaryPatent bad for SMEs in Europe. We will do a more comprehensive survey later this year."
"What's needed is not "a more comprehensive survey" but a survey that does not ask the MIP choir," I told them, to which they replied with: "The MIP choir has a pretty broad spread of voices, as it happens!"
We don't truly think so, but nevertheless, it sure seems like even MIP readers admit that the EPO's claims about UPC being good for SMEs are lies.
More self-Fulfilling Prophecies and US Hopefuls
Based on this tweet, UPC is already here. But it's not. To quote: "Technical teaching for #patent judges. And will the views of the #UPC technical judges have too much weight?"
"Will"? Maybe they mean would. The UPC is not even here yet. To quote what this is based on: "Does this look a bit like what we expect from the long-anticipated Unified Patent Court? The UPC will employ about 50 technical judges alongside a similar number of legally qualified judges."
"The UPC will employ" is wrong. The UPC, if it ever became a reality at all, would do all sorts of things, but given the atmosphere of propaganda (see the SME propaganda above), one shouldn't believe anything at all. Watch how US patent lawyers hold an event about the UPC in the US. They seem to know who the UPC is for and it's not for Europeans. SMEs from Europe won't fly to the US to attend such a conference, one of several such US conferences sponsored by the EPO's PR firm (which just 'happens' to be a US-based firm).
Patent lawyers in the US promote and celebrate the UPC. What does that tell us about who benefits? █
Permalink

Send this to a friend