03.29.17
Gemini version available ♊︎
Forever tyranny, using Mafia tactics, against every rule in the book (including Battistelli's own rules)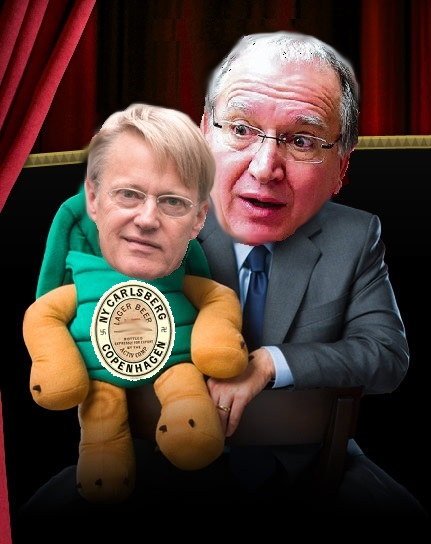 Summary: Discussion about Battistelli and his chinchilla denying national representatives their rights and power to oust Battistelli, who is rapidly destroying not just the Office but also the whole Organisation, Europe's reputation, and the image of France
YESTERDAY we wrote that "Benoît Battistelli 'Pulls an Erdoğan' Faster Than Erdoğan," taking note of forever tyranny which becomes ever more severe over time. The crisis accelerates. The EPO has already sunk among job applicants (it's not at all or barely even listed anymore) and staff is fleeing, based on the actual numbers leaked to us (just like those striving to escape Turkey).
We honestly begin to wonder, in light of a recent proposal from Battistelli's protectors, what if Battistelli has no intention of stepping down when his term ends, even in defiance of the EPC? Who's there to enforce the EPC after the Battistelli coup? Tyrants can go on for decades and Battistelli wasn't even eligible for his current term based on his age. A lot of people don't know this! The same is true for Minnoye. Will Battistelli say that UPC woes and delays justify extension of his term? Will he rewrite the rules as he so habitually does? Or get others to do it for him? Will he stage a crisis (like a silly bicycle tale)? Nothing is impossible at the EPO. We repeat: Nothing is impossible at the EPO. Not anymore!
"I think it is wishful thinking to believe that Battistelli will be replaced in 2018," says this new comment. Here it is in its entirety:
Another earlier comment which is interesting in the present context:

http://ipkitten.blogspot.com/2016/11/firings-will-continue-until-morale.html?showComment=1479022236581#c4108431330349887010

"the Council cannot stop Battistelli dismantling the European Patent Office if that is his plan. He can continue as long as he gets votes from 10 countries. Even for a second or third term, as far as I can tell.
All he needs are the votes from 10 countries."

That poster refers to the majority of 3/4 necessary to elect a new president. But in the last session, Kongstadt had this strange proposal that a same majority of 3/4 was necessary to start the selection process. Isn't that a veiled way of saying "start the selection process if you want, without a 3/4 majority Battistelli stays in post"?

What happens in June 2018 if Battistelli, who controls at least a blocking minority of 10 countries, decides that he just stays in post? Without another President, he stays in post. And he has an history of disregarding the provisions of the EPC, hasn't he?

I think it is wishful thinking to believe that Battistelli will be replaced in 2018. He is there to stay until he has finished his task.
Battistelli continues to lie, cheat, steal and cause people to commit suicide (which is not the same thing as murder, but liability/culpability may exist though cannot be proven because Battistelli prevents authorities from actually investigating).
Consider this recent letter to Battistelli, which was about coverup attempts:
Sehr geehrter Herr Präsident,

in den Balanced Score Cards der letzten Zeit war auch immer wieder der Punkt "S12: Staff Satisfaction" eine Größe, welche das Amt im Auge behalten wollte, weil die Zufriedenheit der Belegschaft eine für die Amtsleitung wichtige Größe dargestellt hat (siehe hier).

Die aktuelle BSC scheint diese Größe nicht mehr zu beinhalten (siehe hier). Die Personalvertretung fragt Sie daher, warum die Zufriedenheit der Belegschaft nicht mehr dargestellt wird. Liegt es daran, dass sie nicht mehr messbar ist? Oder möchten Sie das Amt mit den gemessenen Ergebnissen nicht weiter blamieren?

Mit freundlichen Grüßen,

Der Zentrale Personalsusschuss

Wir bestätigen, dass das obige Schreiben ordnungsgemäß vom Zentralen Personalausschuss beschlossen wurde.
An automated translation of it (Google Translate, unedited) goes like this:
Dear Mr President,

In the Balanced Scorecards of the last time was also always the Point "S12: Staff Satisfaction" a size which the Office in mind Because the satisfaction of the workforce was one for the (See here).

The current BSC does not seem to contain this size anymore (see here). The staff representation therefore asks you why the satisfaction of the Workforce is no longer represented. Is it because they do not Is measurable? Or would you like the office with the measured Results do not continue to embarrass?

Best regards,

The Central Staff Committee

We confirm that the above letter is correct from the Central Committee on Personnel.
Is it not obvious already why EPO staff is up in arms? They've been subjected to a coup by a tyrant and the media in Europe (certainly in Germany) doesn't seem interested in covering that. Maybe it is being paid not to cover it. Or maybe simply threatened, just like in Turkey. If it wasn't for the sanctions, IP Kat wouldn't have gone so silent since last summer. █
Permalink

Send this to a friend