04.14.17
Gemini version available ♊︎
The 'Michelle Lee' effect? Or the Alice effect? Either way, Microsoft's proxy strategy is at risk.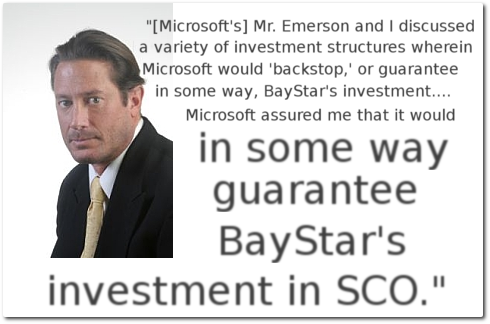 See Lawrence R. Goldfarb (Wikipedia)
Summary: The weakening of software patents in the US means that a bunch of patents-wielding patent bullies/trolls have their business up in flames
IAM might soon lose some of its funding sources, namely patent trolls like Microsoft-armed, Nokia-fed bullies. They are simply not doing well. This might leave IAM growingly dependent on sucking Battistelli's udder for EPO favours and money. Either way, IAM too is unable to deny the trend.
In the rare occasions when trolls get their way (even in London, right next to IAM, as covered here before), IAM celebrates disproportionately. Being the trolls' voice, IAM is citing/quoting selectively all sorts of patent predators, then calls patent trolls in the UK the "decision of the decade" (right there in the jubilant headline). As we noted some days ago, IAM had been writing about this almost every day recently (sometimes more than once a day). IAM is cheering for the trolls! These are trolls working on behalf of a larger company, Ericsson in this case. This sets precedence in the UK — one that trolls would certainly be emboldened by.
"These are trolls working on behalf of a larger company, Ericsson in this case."Like Ericsson, Microsoft increasingly turns to trolls for coercion against competitors. Microsoft has the world's largest patent troll at its disposal, with literally thousands of satellites around it (to help mask the route back to Microsoft et al) and the original troll is finally dying, albeit it's spreading its patents to smaller trolls, much like a cluster bomb wherein munitions are patents. Microsoft is already building a business model around that, as we explained earlier this year [1, 2, 3, 4, 5, 6, 7, 8, 9, 10, 11, 12]. It attacks legitimate companies that actually manage to sell things; these companies are attacked not just via trolls but also directly sometimes. As Patently-O points out, Intellectual Ventures may have gotten itself reputation so bad that it stops operating on its own and just spreads the weapons to other entities. Patently-O is linking to IAM as its source, for IAM is a longtime friend of Intellectual Ventures.
"Patently-O is linking to IAM as its source, for IAM is a longtime friend of Intellectual Ventures."IAM, in the meantime, is revealing that yet another Microsoft-connected proxy/troll (which already attacked GNU/Linux vendors on numerous occasions; details in our Wiki) is collapsing. It tries to soften the blow by framing it as something that affects only Asia but inevitably says:
Acacia Research appears to have significantly restructured its Asia-Pacific business, with the departure of its most senior executive in the region and the possible closure of its Tokyo office.
Where next?
Remember what happened to Creative in Singapore? (collapse of this trolling strategy and departure of the man behind it a few months ago)
Well, Tanya Moore, who worked for two patent aggressors that habitually blackmail their rivals using patents (Microsoft and IBM), has decided to join Sonos — another audio-centric company which wants to do the same as Creative, in spite of the failure of Creative's strategy. As IAM put it:
Sonos has hired former senior IBM and Microsoft IP executive Tanya Moore to be its first chief licensing officer as the audio company looks to bolster its efforts in IP value creation. The business is a relative minnow in patent terms – according to Google patents the company has a little over 200 US patent applications and grants – but owns what Moore views as a critical portfolio for wireless home audio systems.
So expect it to at least attempt to troll all sorts of companies that merely connect audio devices over the Internet — not a novel concept at all, albeit enough for some examiners to allow a patent on (the "over the Internet" patenting pattern).
The bottom line is, we are seeing more and more patent trolls that struggle and completely collapse, including the very first (or original) patent troll. The few which still emerge are hardly successful. █
Permalink

Send this to a friend