Oppression and proprietary software are a pair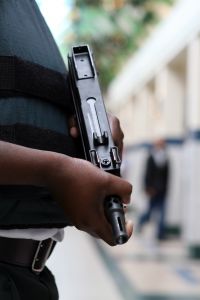 Summary: Another major security problem in Windows, new destinations for Stuxnet, and new excuses for tracking one's Web trails
IT IS not uncommon for Microsoft to leave systems administrators rather restless over the holidays, most typically over Christmas. Users too are left paranoid. This holiday season (US in particular) was no exception as a new Windows kernel vulnerability bypasses UAC, says Slashdot, citing Sophos:
"A new vulnerability in the Windows kernel was disclosed Wednesday that could allow malware to attain administrative privileges by bypassing User Account Control (UAC). Combined with the unpatched Internet Explorer vulnerability in the wild this could be a very bad omen for Windows users."
From the original source rather than
Slashdot
's summary:
A new zero-day exploit in Microsoft Windows was disclosed today. The exploit allows an application to elevate privilege to "system," and in Vista and Windows 7 also bypass User Account Control (UAC). The flaw was posted briefly on a programming education site and has since been removed.
According to
another report
, Stuxnet is still out there and now it is sold on the black market.
According to a report from Sky News, the Stuxnet worm has already been traded on the black market. The report does not clarify whether this refers to the source code or to binary samples. British security specialists now fear that terrorists could use the worm to attack critical infrastructure. The report quotes an IT security consultant to the UK government as claiming, "You could shut down power stations, you could shut down the transport network across the United Kingdom".
We wrote about Stuxnet many times before and it is interesting because some say it was engineered in order to spy on or to sabotage nuclear facilities in so-called 'rogue' nations. See for example:
A few days ago we mentioned MSBBC
articles which clearly neglected to mention Windows in stories that were about Windows-exclusive problems
.
"ANOTHER Windows only story from the #BBC not mentioning Windows," wrote Gordon, "they send people to jail for not paying for this s**t," he added" (the MSBBC is funded by British taxpayers).
Gordon is right because
Windows malware is the central issue
discussed in the article (although it avoids mentioning Microsoft or Windows). For example:
He was caught installing password-capturing software by computer staff examining network problems.
This is a form of surveillance by a criminal. But we previously explained how surveillance uses security as a pretext (sometimes targeted marketing is the preferred excuse) and this includes security problems in software. On that issue, Gordon shares
another MSBBC article
. It talks about "virus alert system" (not mentioning Windows of course) and Gordon says one "gotta love the ISPs who spy on their customers connections #TalkTalk... this excuse is "malware protection" [still Windows of course]":
Talk Talk is launching trials of a controversial anti-malware system following intervention by the Information Commissioner (ICO).

The Virus Alert system keeps an eye on the websites customers visit to stop them accidentally going to places riddled with viruses.
More
here
in
The Inquirer
:
BROADBAND PROVIDER Talk Talk has announced it will continue rolling out a traffic monitoring system that it claims will protect its customers.

The opt-in Virus Alerts Service (VAS) was recently likened to the now banned traffic snuffling operation Phorm by the UK Information Commissioner's Office. It claims to track URLs visited by Talk Talk customers and warn them if a website harbours malware.
The problem here is proprietary software and also this illusion of needing government help (with Phorm that's harboured by it) to simply navigate through some Web pages.
⬆