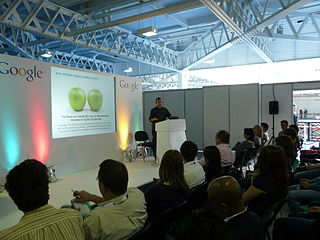 Photo by Derzsi Elekes Andor
Summary: In this age of Android smartphones, tablets, and even Chromebooks, Google's role as a key player in the GNU/Linux world is debatable
Google is probably Microsoft's #1 nightmare. It puts in jeopardy the future of both Windows and Office, Microsoft's few cash cows and monopolies (the latter depends on the former, so when the first is dead, the latter too will die). Google has been receiving a lot of abuse from Microsoft; some examples will be given in the next post. But it is worth thinking what promoting Google would do to GNU/Linux as a free (freedom-respecting) operating system.
"It is very hard to leave anonymous comments on Google-run services and sites."The other day there was an article titled "Google's Motorola wants to tattoo a microphone on your neck" [1] and it was based on a patent. Polygraphs are 'snake oil', but this is pretty much how this thing gets advertised. It is very Big Brother-like. This is similar to a satirical new article [2] titled "Multiple Wyoming School Districts Implant RFID Chip Technology In Students Without Parental Consent" (untrue) and the true story [3] about Google's efforts to require real ID on the Web (as demonstrated by Google Plus, in addition to a lot of tracking and a never-dying cookie). One serious problem with Google is its assault on anonymity, which should be considered a crucial tenet. It is very hard to leave anonymous comments on Google-run services and sites.

Richard Stallman, who is far from a Google sceptic, is not too happy with Google's treatment of anonymity. He writes in his personal Web site: "I reject Facebook and Google+ on principle because they require people to give their "real names". I am proud to identify myself when stating my views; I can afford to do that because I am in a fairly safe position. There are people who rationally fear reprisals (from employers, gangsters, bullies, or the state) if they state their views. For their sake, let's reject any social networking site which insists on being told a user's real name.

"Google+ offers to hide the user's real name, but demands people prove an "established identity" or provide ID. I am suspicious of this requirement, since it can't hide the user's real name from the US government, which has a policy of prosecuting journalists as "spies"."


"I am suspicious of this requirement, since it can't hide the user's real name from the US government, which has a policy of prosecuting journalists as "spies"."
--Richard StallmanGoogle has done too little to defend Wikileaks and other such efforts; in fact, based on Schmidt's meeting with Assange, Google is in many ways part of the problem, denying us access to what those in power are trying to hide (e.g. Cablegate). Google says it wants to improve access to information, but Google limits the scope of this information (selectivity) and is increasingly engaging in censorship, too. This is not reassuring. It's not just something which Google does in China, not anymore anyway.

There are of course other problems with Google, which does too little to oppose NSA snooping. Thankfully, Google hardly makes an effort to pull the files of GNU/Linux users [4], unless of course they use Android, in which case there's promotion of a so-called 'feature' known as remote backup (sending all your personal data -- including passwords -- to Google's NSA-accessible datacentres). The situation is similar when it comes to ChromeOS, which GNU/Linux bashers like David Gewirtz seem to have no problem with [5] and colleagues at ZDNet claim to be on the rise [6]. As some GNU/Linux users start to explore ChromeOS [7] as an option (locked down, more surveillance than a typical GNU/Linux distribution), there's reason for concern and caution; it's not that ChromeOS (or its "open" equivalent) is malicious, it's just that it's a step away from where we wish to be with freedom- and privacy-respecting GNU/Linux. ⬆

Related/contextual items from the news: