The true colours of the founder of that ridiculous (and minuscule) account, Mr. Morinville [1, 2]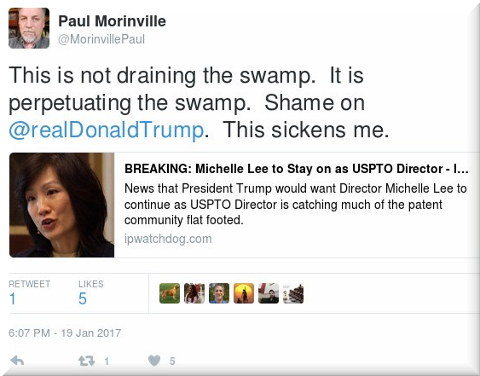 Summary: The face behind so-called 'US Inventor' (an anti-PTAB group) which enlists, apparently, a handful of people and does not actually represent American inventors
T
HERE is no lack of radicalism in patent circles, even if they try to disguise this as professionalism or even inventorship. With words like "ownership" and "property" (even "piracy") they seek to mislead the public, but it doesn't always work.
Dennis Crouch, a prominent part of the problem, has been bashing PTAB for quite some time. Days ago
he even defended patent trolls from the EFF
and earlier this week
he wrote about
USPTO
statistics; it's anything but benign, but improvements have been made in recent years.
Worse things have come from Watchtroll, a site of patent extremists and very rarely some moderates. A couple of days ago, for example,
Neel Chatterjee said
that a "Patent 'gold rush' [is] to blame for patent sharks, patent trolls," noting quite correctly the correlation to software patents. "The roots of the modern patent troll boom," he said, "can be traced to a similar expansion in the definition of patentable subject matter sparked by the Federal Circuit's 1998 State St. Bank & Trust Co. v. Signature Fin. Grp., Inc. decision eliminating the so-called "business method exception" for software that produced a "useful, concrete, and tangible result." In the 10 years following the Federal Circuit's 1998 decision, the number of granted software patents expanded from approximately 30,000 per year to over 100,000 per year."
Much of Watchtroll, however, has been a cesspool of patent propaganda. Some of the most aggressive actors out there, including the site's founder, keep bashing PTAB and pushing hard for software patents almost every day/week. Some of their most extreme pieces come from Morinville, who sounds like a rabid Trump supporter (recall his constant online bullying of Michelle Lee) and has been begging for attention recently because he organised a ridiculous 'event' which turned out to be a massive failure. Funnily enough, it seems like he organised it in Facebook, in order to protest Facebook. The head of 'IP' [sic] at Google, incidentally,
has just quit to join Facebook
. We expected the event to receive no media attention, as it received barely any attention online (or presence). We mentioned it briefly the other day, but only very briefly. When a radical group of patent extremists from Watchtroll (and cohorts) get together about
a dozen people
we don't deem it noteworthy and definitely not newsworthy. We were wrong, however, as a couple of sites got trolled (or tricked) into writing articles about it.
Basicallly, ones who are hypocritical to the extreme (for reasons noted here last week) must have pressed on the media. WIPR
really fell for it and played along
(
via
). Here is the relevant part:
Paul Morinville, founder of US Inventor, said: "The PTAB, a rogue administrative tribunal, is neutering or invalidating over 92% of challenged patents."

He added that it takes millions of dollars to fight at the PTAB, so "very few inventors and start-ups can protect their patent rights".

Morinville concluded that the board is a "disaster and must be eliminated".
Yeah, patent quality is such "disaster and must be eliminated," right, Paul?
So a so-called 'inventor' finally realised his patent is worthless (and was likely bogus all alone), then decided to burn it. Big deal. Like a child.
We were even more surprised to see this covered in
bigger media last night
(the headline again focused on the fiery publicity stunt that's akin to radical book-burning). The article also said:
President Donald Trump hasn't nominated a replacement for former PTO Director Michelle K. Lee, who resigned in June.

Lee was popular among technology companies. However, patent owner and inventor groups criticized her for not reining in a PTAB they consider overly aggressive in invalidating patents.

Joseph Matal, a former congressional aide who played a leading role in drafting the AIA, was appointed June 7 as PTO acting director.
It doesn't look like an unauthorised protest by a few people who burn paper will have any impact on Matal and his colleagues. If anything, it serves to show what sorts of people are behind the anti-PTAB rhetoric. As we put it earlier this year, "Michelle Lee, USPTO Director, Should Recognise That the Patent Microcosm is Her Enemy Which Hates Her"...
⬆