Related
:
IBM, IPO, AIPLA, ABA and Other Lobbying/Front Groups of the Patent Microcosm Are Trying to Change US Law for Software Patents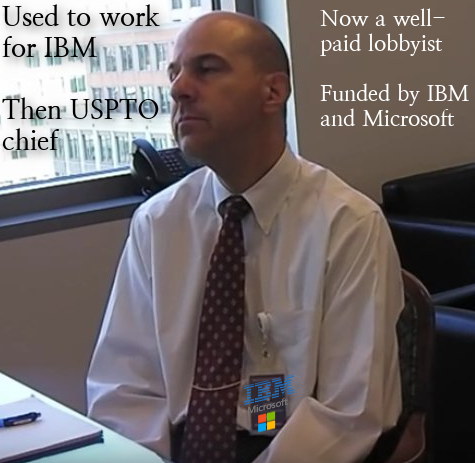 Summary: With IBM and Microsoft having lots of commonalities when it comes to patent policy and exploitation of the law (both employed similar people too, notably Marshall Phelps and David Kappos, former Director of the USPTO), concerns should be raised in light of the latest lawsuit from the patent troll they support
FORGET the nonsense about OIN and LOT Network; OIN does nothing to shield anyone from trolls or proxies, which Microsoft is leveraging to sell "Azure IP Advantage" [1, 2, 3, 4, 5, 6, 7, 8, 9, 10, 11, 12, 13, 14, 15, 16, 17, 18, 19, 20, 21]. It's also difficult to forget Microsoft's role in the SCO lawsuit, which is still ongoing (more than a decade and a half now) and primarily targets IBM.
"It is quite worrying to see IBM- and Microsoft-employed lobbyists publicly defending patent trolls on the very same day an IBM-armed and Microsoft-funded patent troll uses software patents for blackmail."According to patent boosters, who took note of it pretty fast and linked to reports, patent troll Finjan, fueled by the new owner of Red Hat, backed and financed by Microsoft, filed another lawsuit. We had spotted the original press release within hours upon publication and it said this:


Finjan Holdings, Inc., (NASDAQ:FNJN), a cybersecurity company, today announced that -- after nearly two years of good faith efforts to resolve a patent dispute with Fortinet, Inc. ( "Fortinet") -- its subsidiary Finjan, Inc. ("Finjan") has filed a patent infringement lawsuit against Fortinet, Inc., a Delaware corporation with headquarters in Sunnyvale, California, in the U.S. District Court for the Northern District of California.

Finjan filed the Complaint (Case No. 3:18-cv-06555), on October 26, 2018, and alleges that Fortinet's products and services infringed or are infringing at least nine of Finjan's U.S. patents. Specifically, Finjan asserts that Fortinet's FortiGate, FortiManager, FortiAnalyzer, FortiSiem, FortiSandbox, FortiMail, FortiWeb, FortiCache and FortiClient technologies, including Fortinet Security Fabric Platform products infringe U.S. Patent Nos. 6,154,844; 6,965,968; 7,058,822; 7,418,731; 7,647,633; 7,975,305; 8,079,086; 8,225,408; and 8,677,494 (collectively "the Asserted Patents"). Finjan is seeking, among other things, a jury trial, past damages not less than a reasonable royalty, enhanced damages for willful, wanton and deliberate infringement, and reasonable attorneys' fees and costs for infringement of each of the Asserted Patents. Additionally, Finjan is seeking preliminary and permanent injunctive relief against Fortinet and those in privity with them, from infringing and inducing the infringement of the '968, '822, '731, '633, '305, and '408 Patents.
These are software patents. So the same month that Microsoft said it had reached patent "truce" with GNU/Linux its patent troll Finjan is filing yet another lawsuit against Microsoft's rivals. It's as if nothing at all has changed except Microsoft's lies embedded all over the media (something about "protecting Linux" and "open-sourcing patents).
Meanwhile, the
lobbyist David Kappos
(sponsored by Microsoft and IBM after he had run the USPTO) is promoting software patents and patent trolls (like Microsoft's and
arguably IBM
). He uses the euphemism non-practicing entities (NPEs) and published
this article yesterday
in what's likely the largest site on the topic, saying:
The recipe for swinging the pendulum of patent law towards weaker patent rights is simple: Start with a generous warning about the scourge of low quality patents, stir in a skosh of fear mongering regarding non-practicing entities (NPEs) asserting those patents, then apply heat with predictions of lost jobs and threats to innovation, publicize in a blog, speech or article, and there you have it!
Just like the
Trump-appointed
Director Iancu he seems to be denying there's a problem. Earlier this month Iancu came under a lot of fire, especially from front groups of technology firms large and small, after he had insinuated that patent trolls aren't a problem or don't even exist (they're a 'fiction' or 'fake news'). It is quite worrying to see IBM- and Microsoft-employed lobbyists publicly defending patent trolls on the very same day an IBM-armed and Microsoft-funded patent troll uses software patents for blackmail. Need we add that on the same day IBM also announced that it bought or agreed to buy all of Red Hat's 'defensive' patents, which include software patents? The
Federal Circuit
typically finds that those patents are invalid (if the case reaches that far, at great expense to the defendant).
⬆