01.20.09
Gemini version available ♊︎
WHAT are Microsoft and Portugal's government up to this time around? Same old, same old on the face it [1, 2, 3, 4, 5, 6].
One of our informants in Portugal argues that "Vortal makes the web site where most of the Portuguese public procurements are done" and "[he has] been told by many that you have to be a Microsoft client to run for any public procurement [...] here is the proof (screenshot below)."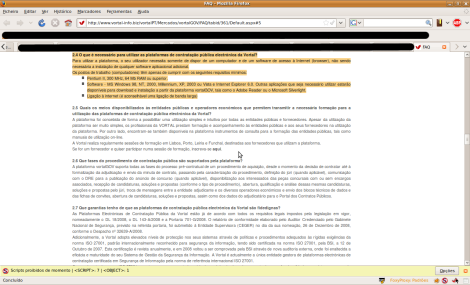 The page says:
2.4 O que é necessário para utilizar as plataformas de contratação
pública electrónica da Vortal?
Para utilizar a plataforma, o seu utilizador necessita somente de dispor
de um computador e de um software de acesso à Internet (browser), não
sendo necessária a instalação de qualquer software aplicacional
adicional.
Os postos de trabalho (computadores) têm apenas de cumprir com os
seguintes requisitos mínimos:

* Pentium II, 300 MHz, 64 Mb RAM ou superior.
* Software – MS Windows 98, NT, 2000, Millennium, XP, 2003 ou Vista
e Internet Explorer 6.0. Outras aplicações que seja necessário
utilizar estarão disponíveis para download e instalação a partir
da plataforma vortalGOV, tais como o Adobe Reader ou o Microsoft
Silverlight.
* Ligação à internet (é aconselhável uma ligação de banda larga)
In English:
2.4 What is necessary to use Vortal's platforms for electronic public
procurement?

In order to use the platform, its user needs only to have a computer and
an Internet access software (browser), without the need to install any
other application software.

Workstations (computers) need only to fulfill the following minimal
requirements:

* Pentium II, 300 MHz, 64 Mb RAM or superior.
* Software – MS Windows 98, NT, 2000, Millennium, XP, 2003 or Vista
and Internet Explorer 6.0. Other applications that need to be used
are available for download and installation from vortalGOV
platform, such as Adobe Reader or Microsoft Silverlight.
* Internet connectivity (broadband is advisable)
To receive this sort of insult from any government is a truly a shame; it's more to be expected from suppressive regimes or Ryanair [1, 2]. Then again, Microsoft breaks laws in procurement [1, 2, 3, 4, 5, 6, 7, 8, 9], so it's not particularly surprising. Will the European Commission take this into account?
Overall, Microsoft's proprietary 'extensions' to Web pages are locking GNU/Linux users out and leaving them to complain about Monolight[sic], not Microsoft. At the same time, Microsoft fools developers, telling them that "Silverlight is cross-platform". This is a lie that neglected individuals can also thank Novell for. █
"Another suggestion In this mail was that we can't make our own unilateral extensions to HTML I was going to say this was wrong and correct this also."
–Bill Gates [PDF]
Permalink

Send this to a friend