03.15.11
Gemini version available ♊︎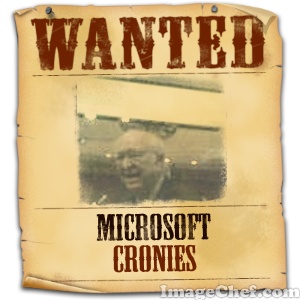 Summary: Microsoft resorts to dirty tactics and aggression as more of its products fall flat on their faces
INTERESTING things are happening for Microsoft, which means that my week (or two) off was badly timed. In order to prevent this site from being too quiet while I'm on dodgy cellular networks (leading people to baseless theories), it is probably better to provide some quick updates, such as the headsup from OpenBytes about the failing of Xbox 360:
It is reported that Sony's PS3 shipped 2.2m more units than the 360 in 2010. The reasons for this could be numerous, disaffection with Microsoft, no BluRay on the 360 or the RROD. The approximate numbers being reported as sold are: WII – 17million, PS3 – 14.4million and 360 on 12.2million. Oh dear. Maybe the Kinect (like I said at the time) wasn't the major draw to the console that some claimed and maybe only set to appease existing 360 users and people who wanted to use the Kinect on a different platform altogether.
There is more here and OpenBytes speaks about Vista 7 possibly bricking computers:
A brace of "fatal errors" is hampering Windows 7-based computers that have been updated with Microsoft's first service pack for its current operating system.

In fact, since Windows 7 SP1 was released late last month, many users have been grumbling on forums about problems with the install of the update package.
Here is what OpenBytes says:
Now whilst some Microsoft advocates are always quick to allege that Windows "just works" and is "easy to use" (whilst claiming Linux is a a complex hobbyist system) it appears that Windows SP1 installs are not going very smoothly
Read the full details at the original sources (hard to verify while on a throttled connection). Last but not least, Zune is officially dead, but we already said that, did we not?
CONSUMER ELECTRONICS ALSO-RAN Microsoft has finally put its Zune music player out of its misery, with reports that the company will no longer develop products for the Zune.

Microsoft launched its Zune music player back in 2006 to compete with Apple's Ipod. At the time CEO Steve Ballmer said that Microsoft could beat Apple at its own game, a statement that seemed fanciful at the time and has now proven to have been simply laughably wrong. Bloomberg reports that Microsoft will stop updating its Zune player, concentrating on putting the software onto other devices.
Why worry about Microsoft? It just enters any market which might smell like money; currently it tries becoming a patents parasite feeding on other companies, not with much success though (it's more of a distraction than a promising direction). For many years now (since the 1990s) Microsoft has been planning market distortion using government-granted monopolies such as patents. We have already provided many details about Elliot's (Paul Singer) role in distorting markets and planning to tear Novell to pieces long before making the bid, which ultimately resulted in Microsoft taking over everything it needs from Novell. Groklaw looks at the mysterious and probably corrupt unXis case. It finds connections to Microsoft, Canopy, Carlyle, Elliott Associates, and Koch Industries:
On January 5th, it was announced that Koch Industries had sued a Utah web host, Bluehost, seeking names of pranksters who had put out a spoof press release and then posted it on a website made to look like Koch's. Koch is asserting trademark infringement, unfair competition, breach of contract, and cyberpiracy under state and federal law, including a claim using the incredibly popular and oppressively flexible Computer Fraud and Abuse Act. It's the dernier cri in litigation, ya know. The New York Times provides some background on the case, which involved Koch Industries unmasking some anonymous defendants and trying to make them pay for making fun of them. Bluehost totally caved, by the way.

The case caught my eye originally because it was assigned to the Hon. Dale Kimball, the judge who originally presided over both SCO v. IBM and SCO v. Novell in US District Court in Utah. So it piqued my curiosity, and I took a look. And then the weirdest thing happened.

As I read the filings, particularly Public Citizens' Memorandum in Support of Motion to Quash, Issue Protective Order, and Dismiss Complaint [here's the Motion it supports, both PDFs], I was struck by two things: 1) the allegations seemed over the top in the SCO-esque sense and 2) Koch Industries is represented by Parsons Behle, the same law firm that represented Canopy Group in its litigation against Ralph Yarro, ousting him from his position with the company in 2004 and totally in 2005. He remained with SCO Group as chairman of the board, until the company filed for bankruptcy in 2007. But looking at the subpoena [PDF] Yarro's lawyers served on Parsons Behle in that litigation, I saw that the firm had represented Canopy Group from 1998 onward, meaning that for some time, they represented Canopy when Yarro was heading it up.

Woah. Is there a Yarro-Koch connection? A unXis connection? After all, unXis seems to have some connections to energy interests, and that's Koch's field. And always, over the years, in reporting on the SCO saga, who do we find peeking out from behind the curtain? Microsoft.
It is like some kind of mafia looking for the benefits of very few rich members of the public. They work together a lot of the time. It helps them at the expense of everybody outside that cabal. Incidentally, be sceptical of "CIA" figures about the Internet (that's how it was described). IE9 is a case of too little, too late. The Microsoft-sponsored 'Web statistics' already produce warped numbers to give the illusion of an Internet Explorer comeback. Everything for hype, eh? █
Permalink

Send this to a friend