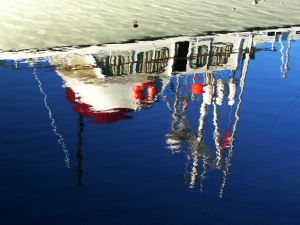 Summary: A look at the weakening of Microsoft and Apple in the mobile space
T
HIS post is not a case of schadenfreude; rather, it's another reminder of the problems Apple and Microsoft are having as they compete mostly against Linux (but also Symbian and BlackBerry for example). The
reality
behind Windows Mobile is only made worse by
this new and exclusive review by Galen Gruman from IDG
. "Don't bother with this disaster" says the headline where Gruman refers to Vista Phone 7 [sic].
There's no kind way to say it: Windows Phone 7 will be a failure. Announced to much bravado in February as the platform that would breathe life into Microsoft's mobile ambitions, Windows Phone 7 looked based on very early previews as if it might bring something new and exciting to the table. Back then, I noted that I was impressed by what I saw -- with the caveat "so far."

No caveats now: Windows Phone 7 is a waste of time and money. It's a platform that no carrier, device maker, developer, or user should bother with. Microsoft should kill it before it ships and admit that it's out of the mobile game for good. It is supposed to ship around Christmas 2010, but anyone who gets one will prefer a lump of coal. I really mean that.
The Guardian
publishes
"Windows Phone 7 a 'disaster' says Infoworld after developer demo" and it states:
The as-yet unreleased Windows Phone 7 is a "waste of time and money", a "disaster" that Microsoft should kill as soon as possible. So says Galen Gruman of Infoworld, who has watched an in-depth demonstration of the new phone software at Microsoft's Worldwide Partners Conference which has been going on all week at the company's headquarters in Redmond, Washington.

Windows Phone uses a "contact-centric" approach, where rather than doing "tasks" (in the iPhone app way), you are presented generally with contacts, and informed when someone has done something (updated their Facebook/Twitter feed, called you, etc). My personal first impression of the screenshots was "that's really not going to scale to the point where you have 300 people in your contacts book and 20 Facebook friends and 50 emails and 100 people you follow on Twitter and 30 apps", but I thought that was just me not following the thinking behind it.
"Windows Phone 7 Issues Could Mirror Kin's,"
said the headline of the Microsoft booster from Microsoft-Watch just some days prior to it
:
Over at Daring Fireball, John Gruber is claiming a "well-placed little birdie" told him that Microsoft sold 503 Kin phones before the plug was unceremoniously pulled. As pointed out on sites like Pocketnow.com, though, there are 8,810 "monthly active users" of the Kin Facebook application, for which you need either the Kin One or Kin Two. However--as yet someone else helpfully suggested--at least a portion of those users could be Microsoft employees, meaning the number of actual devices sold at retail and subsequently present in the wild could be far, far less.
The South African press
wrote about
"Microsoft's mobile woes" (headline again). Ironically, despite these abysmal predictions around Vista Phone 7, Microsoft publicly compared hypePhone 4 to Vista (which also says a lot about what Microsoft thinks of Vista, having previously lied about it). From
TechCrunch
:
Prediction: This Statement Is Going To Come Back To Bite Microsoft In The Ass
"It looks like the iPhone 4 might be their Vista, and I'm okay with that."

That was Microsoft COO Kevin Turner during his keynote speech at the company's Worldwide Partner Conference (WPC) in Washington today. I'm going to go out on a (not very big) limb and predict that this comment is going to come back to bite Microsoft in the ass.

Microsoft has a long, illustrious history of putting its foot in its own mouth with comments like this. But usually it's CEO Steve Ballmer making the comments. Ballmer's most famous remarks are also about the iPhone. After it was announced in 2007 (but before it launched) Ballmer seemed willing to tell anyone who would listen that the device would fail. Who can forget this video?

And then there's his comment to USA Today: "There's no chance that the iPhone is going to get any significant market share. No chance." He went on, "But if you actually take a look at the 1.3 billion phones that get sold, I'd prefer to have our software in 60% or 70% or 80% of them, than I would to have 2% or 3%, which is what Apple might get."
According to
The Guardian
again,
"Microsoft seeks iPad users for in-depth study - via Facebook"
"This reminds me of a
Comes vs Microsoft
doc," told us a reader, "something about keep on copying Netscape in order to advance our innovation."
Apple is in no promising position either. Its reputation has suffered an injury that hypePhone spinners are still unable to cure. In some ways, Apple makes things even worse with its denials. From the latest news:
i.
iPhone Antenna Flaw: Apple Remains in Denial
Apple is continuing to face criticism from product reviewers and engineers about the poor performance of the iPhone 4's antenna. However, it appears that Apple is stubbornly determined to rely on spin to minimize the public perception of the problem rather than to deliver a real solution. Even Apple's mighty reputation will suffer for it.
ii.
The iPhoney
Now Consumer Reports, a well-known and trusted tester of stuff consumers buy has quantitatively analyzed the problem and demands Apple provide an update/fix or a piece of duct-tape. I find real justice in the juxtaposition of an ad for the Sony Xperia on the same page… Cute, eh? You can buy something that doesn't work from Apple or something that does from Sony. What are you going to choose?
iii.
The Woz Experienced Reception Woes With His iPhone 4, Too
iv.
Jobs Crashing to Earth
The stench of desperation must be getting pretty thick on the Infinite Loop. Can it be that the generator for Steve Jobs's notorious Reality Distortion Field has finally broken down?

Two days ago, we learned that Jobs knew of the iPhone 4's antenna problem before launch. They had warnings both from an in-house antenna engineer and "carrier partner", presumably AT&T. Yes, this means all the Apple fanboys who had hissy fits at me when I said fifteen days ago that Apple was lying about the problem now get to go sit in the stupid corner.
v.
[iPhone 4 cartoon]
vi.
Steve Jobs latest on iPhone 4: "we don't think we have a problem"
Apple has been holding a highly unusual press conference to clam fears about the iPhone 4 and the 'death grip' problems some users have experienced. Unfortunately, Steve Jobs seems to be in two minds about what message to get across. On the one hand he says there is no problem, on the other he's giving away free cases to solve it...

The iPhone 4 may have sold more than any other iPhone in the shortest period, but it has also brought with it the most bad press and a wave of consumer anger courtesy of the now infamous problem with reception when held in a certain way. Known as the iPhone 4 death grip, unfortunately this method is the most common when holding a touchscreen smartphone device such as the iPhone. Even more unfortunately, Steve Jobs himself angered consumers after reportedly telling one buyer who complained 'not to hold it like that then'. Now Jobs has been forced into backtracking and doing something that Apple is not used to, holding an unscheduled 'on-campus' press conference to try and fire-fight the growing media bad publicity storm and calm the consumer ill feeling and concern. That press conference is just now coming to an end, and DaniWeb can reveal exactly what Apple and Steve Jobs have done to solve the iPhone 4 reception problem.
vii.
iPhone lawsuit wins class action status
A lawsuit against Apple and AT&T over their exclusivity contract has been granted class action status, meaning it now includes anyone who bought an iPhone between June 29, 2007, and present day and signed up for AT&T service. (Court Filing PDF)
viii.
Apple drops Consumer Reports/iPhone 4 threads down memory hole [updated]
Wired's Epicenter blog points to at least two threads referencing the CR story that have been left intact. Perhaps an overzealous forum manager has now reined in the urge?

If you were looking for a message thread on Apple's support forums pointing to Consumer Reports' article 'not recommending' the iPhone 4, it's not there any more. Apple's support forum moderators deleted the thread. Bing cached it.
ix.
Apple and AT&T: Time to Wake Up and Smell the Class Action
While a class action is a significant litigation in and of itself and the outcome has potentially serious implications for Apple and AT&T, there is certainly the possibility that this could now expand into a much larger federal case much like DOJ vs. Microsoft from the previous decade, especially since the US Justice Department has reportedly been investigating Apple regarding monopolistic practices with iTunes and the iPhone 4 SDK.
x.
Consumer Reports will not recommend Apple iPhone 4
Consumer Reports said it cannot recommend Apple's iPhone 4 to buyers after tests confirmed the device's well-publicized reception glitches.

It added that that AT&T Inc, the exclusive mobile phone carrier for the iPhone 4, was not necessarily the main culprit.
xi.
Topic : Duplicate iCal Items after 10.6.3 Update
Months late Apple finally decided to leave journalists alone:
iv.
Search warrant dropped in Gizmodo iPhone case
San Mateo County officials have withdrawn a search warrant issued for an editor at Gizmodo, the tech blog that beat Apple to the punch and unveiled a prototype of the new iPhone in April.

According to court documents, the search warrant was dropped on Thursday after Gizmodo editor Jason Chen agreed to submit information kept in several electronic devices seized from his house in April.
Apple may have realised that it cannot always control the message and control its image; trying to do so excessively is asking for trouble.
For background, see:
Apple and Microsoft are both struggling in this space at the moment; this shows that proprietary software in general may not scale well (testing, development, distribution).
It ought to be mentioned that Android too has just had a casualty -- a phone that was too restrictive.
⬆