Microsoft and SUSE Make OpenStack Proprietary
Dr. Roy Schestowitz

2011-10-30 17:08:01 UTC
Modified: 2011-10-30 17:08:01 UTC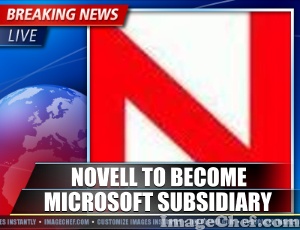 Summary: SUSE Makes OpenStack less open by putting SUSE Manager in it
The other day we wrote about OpenStack, noting that Microsoft and Novell were turning 'open' stacks into proprietary ones.
Coming from the company that puts "Open" before "SUSE" to make it look community driven (the
weekly news
seems to be the only community-driven component at this stage) we are not surprised to see proprietary software such as Manager
inserted into 'Open'Stack
:
Based on OpenStack's interrelated cloud computing platform components, SUSE's cloud infrastructure solution runs on SUSE Linux Enterprise Server and leverages existing and proven tools such as SUSE Studio and SUSE Manager. The integration of SUSE tools, platform and OpenStack, coupled with SUSE's extensive experience delivering enterprise-class, open source solutions, removes many of the complex, cost-prohibitive and risky issues associated with cloud computing.
We also wrote about this in the context of Zonker's spin. SUSE Manager
is proprietary
, not open.
⬆