Petition Against Richard Stallman Continues Losing Signatures, Open Letter of Support Reaches 6,750 Signatures
Dr. Roy Schestowitz

2021-06-11 10:18:25 UTC
Modified: 2021-06-11 10:19:44 UTC
Recent
:
How to Sign the Letter in Support of Richard Stallman Without Microsoft's GitHub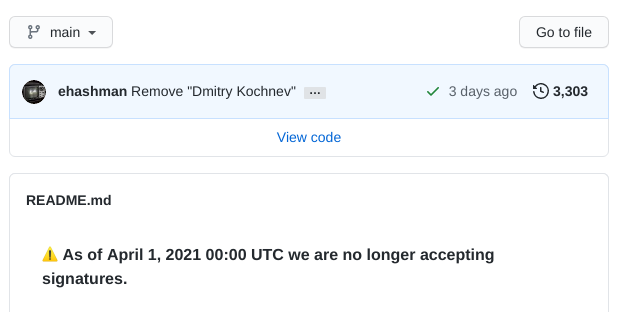 One name fewer
:
StallmanSupport.org latest
: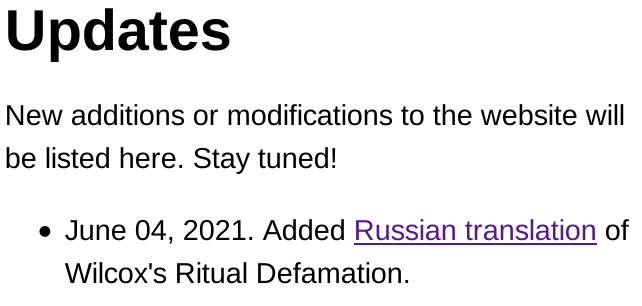 Summary: The latest (if not last) person to garden the anti-RMS petition is an IBM employee. As has been the case for months. Another removal. IBM has a grudge against GNU's founder and by extension the FSF (they want the FSF to be a slave of IBM, just like the Linux Foundation is; we last covered this a day ago). "An open letter in support of Richard Matthew Stallman being reinstated by the Free Software Foundation" has meanwhile reached 6,750 signatures and that number grows by about 50 every 3-4 weeks, so it's reasonable to expect 7,000 by year's end. The anti-RMS petition may fall below 3,000.
Recent Techrights' Posts
That's not freedom
There are forbidden topics in the hacker community
The winter is coming soon and this means our anniversary is near

They Say Free Software is Like Communism When They, the Proprietary Software Giants, Constantly Pursue Government Bailouts (Subsidies From Taxpayers)

At the moment Ukraine is at most risk due to its dependence on Microsoft (inside its infrastructure)
Recent events, including developments at Twitter, meant that they lost a lot of their audience and then, in turn, sponsors/advertisers
Proprietary software has an entirely different mindset, revolving around business models rather than science
Malicious tongue wanted to do him what had been done to Julian Assange
They're both authentic and secure, but they're not the same
We need to reject these liars and charlatans
Links for the day
GNU/Linux, Microsoft, and more
down by a lot in this category
IRC logs for Friday, September 29, 2023
It's probably too later to save Julian Assange as a working publisher (he might never recover from the mental torture), but as a person and a father we can wish and work towards his release
Newspaper? What newspaper?
Free software does not try to excite people people over nothing
Those who have been paying attention to news of substance rather than fashionable "tech trends" probably know that GNU/Linux grew a lot this year
If all goes as well as we've envisioned, Microsoft will get smaller and smaller
Newer should not always seem more seductive, as novelty is by default questionable and debatable
Links for the day
Reprinted with permission from Ryan Farmer

Jim Zemlin Thinks the World's Largest Software Company Has 200 Staff, Many of Whom Not Technical at All

biggest ego in the world

Microsoft GitHub Exposé — In the Alex Graveley Case, His Lawyer, Rick Cofer, Appears to Have Bribed the DA to Keep Graveley (and Others) Out of Prison

Is this how one gets out of prison? Hire the person who bribes the DA?
Out now
Links for the day
RedHat.com is basically lioning a firm that has long been attacking GNU/Linux in the private and public sectors at the behest of Microsoft
We saw this in action last week
LXO response to proposed Code of Conduct

Conde Nast (Reddit), Which Endlessly Defamed Richard Stallman and Had Paid Salaries to Microsoft-Connected Pedophiles, Says You Must Be Over 18 to See 'Stallman Was Right'

Does this get in the way of their Bill Gates-sponsored "Bill Gates says" programme/schedule?
Richard Stallman has cancer
a blow to software patents in Canada
The Debian Project Leader said the main thing Debian lacked was more contributors
IRC logs for Thursday, September 28, 2023
Links for the day
Links for the day
Lots of work remains to be done
better late than never
We want do publish video without any of the underlying complexity and this means changing some code

Microsoft is Faking Its Financial Performance, Buying Companies Helps Perpetuate the Big Lies (or Pass the Debt Around)

Our guess is that Microsoft will keep pretending to be huge, even as the market share of Windows (and other things) continues to decrease

Techrights Will Tell the Story (Until Next Year!) of How Since 2022 It Has Been Under a Coordinated Attack by a Horde of Vandals and Nutcases

People like these belong in handcuffs and behind bars (sometimes they are) and our readers still deserve to know the full story. It's a cautionary tale for other groups and sites
These sites aren't babies anymore. In terms of age, they're already adults.
If you don't even try to fix something, there's not even a chance it'll get fixed

Google (and the Likes Of It) Will Cause Catastrophic Information Loss Rather Than Organise the World's Information

Informational and cultural losses due to technological plunder
Links for the day
Xen, breaches, and more
Reprinted with permission from Ryan Farmer