12.04.10
Gemini version available ♊︎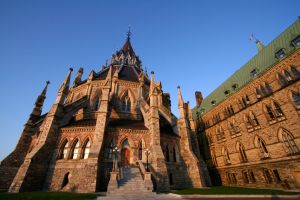 Summary: Canada will need to decide whether its copyright and patent laws are determined by corporations in the country down south or by the Canadian people for the Canadian people
Canada's parliament is currently struggling with opposition because people realise that copyright laws, for example, are being exported from other countries rather than constructed domestically to serve the interests of Canadian people, including artists (it's not surprising if one follows the money). Yes, artists too are complaining about Bill C-32, the latest news on which can be found in the posts below:
Thanks to Wikileaks we now also know how copyright laws are made up. From the news:
Spain's Congress is about to vote on a new and extremely harsh copyright/Internet law. It's an open secret that the law was essentially drafted by American industry groups working with the US trade representative.

But it gets gets more interesting: 115 of the Wikileaks cables intercepted from the US embassy in Madrid were tagged with "KIPR" — that is, relating to "intellectual property," The big question has been: will El Pais, the Spanish newspaper that has the complete trove of Wikileaks cables release them in time to effect the vote on the new law?

Intellectual property policy has long been closely linked to U.S. trade policy, so it should come as little surprise to find that it appears to figure prominently in the cables obtained by Wikileaks. Although only a couple hundreds have been posted thus far, the Guardian has supplied a full list of all 251,287 cables. The list includes tags for each cable, so that the subject matter can be decoded.
Yesterday we mentioned Amazon quite a lot in the daily news summaries and in TechBytes, our audiocast. It's the American conglomerate which is being slammed and boycotted a lot in recent days because of its actions (and then coverup) regarding Wikileaks. How evil does Amazon want to be? And the latest news is as follows (starting with PayPal doing the same evil thing):
That last summary of Wikileaks news was written by Laurel L. Russwurm, who is a brave Canadian lady. She too understands how her country is being compromised by sources of illegitimate (and often foreign) power. Last month we wrote about the Canada-Amazon story [1, 2, 3, 4, 5, 6, 7, 8], wherein it's made clear that Amazon is distorting Canadian for Amazon's own interests. The Canadians are fighting back against it and Robert Pogson, who is also a Canadian, calls it "Canada's Bilski". "If you can patent method A and method B," he writes, "Is method A+B patentable? What about A-B? Wake up, commissioner!"
Over at the EU there is action too. Ciaran has created a detailed Wiki page on the subject and Glyn Moody calls for participation:
start writing those amicus curiae briefs #patents #canada
Amazon was also mentioned here some days ago:
For example, even the famous Amazon.com 1-click patent has a limitation requiring a 'response to only a single action being performed.' The user necessarily is the one who performs this 'single action' after going to the web page and searching for the item. If simple user involvement were enough to give rise to divided infringement, few, if any, software patents could be infringed.
A Groklaw-hostile site, ipwars.com, has this post titled "Business method patents before the Commissioner":
The Deputy Commissioner did not think that reciting in a computer to do all the calculations helped. The change in state or information in the computer was not sufficiently substantial to secure a patent.
To clarify, software patents and business method patents are not entirely separable. This is why In Re Bilski mattered so much and there might be a 'second Bilski' even in the United States where Microsoft Office is at risk of embargo. We shall cover that later. █
Permalink
Send this to a friend