11.12.13
Gemini version available ♊︎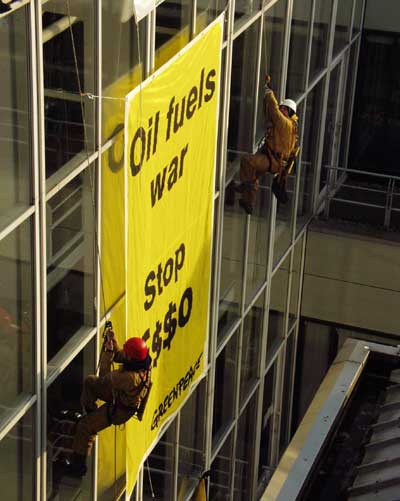 Summary: How the fossil fuel and other dirty energy industries contribute to the deaths of probably millions in lesser-developed nations
If the NSA was truly serious about fighting terrorism, then it would not abuse privileges and expand to fighting drug peddling, tax evasion, etc. If the NSA was serious about saving people's lives, then it would bother about none of these relatively small problems and start dealing with healthcare-centric cartels, fossil fuel advocacy that distorts and corrupts our press and literature, and perhaps even car accidents.
It is true that there is terrorism in this world (even state terrorism, as demonstrated by the CIA/NSA), but that doesn't automatically make it the only subject which needs to worry us. Greenpeace, despite an aggressive approach at times [1], does seem to understand where activism matters. The extinction of our species is possible not just because of events outside of Earth (like meteor/asteroid risks that Nature recently covered [2]); it is possible when too many of us fight for food and water amid unprecedented climate which knocks us off equilibrium. In Hong Kong one can see how human greed and nastiness drive some of the planet's biggest species into extinction [3] and Japan needed to learn from a nuclear disaster (and future cancer epidemic) before waking up. Solar energy is promoted by Japan following yet another nuclear disaster [4], but isn't it too late? It's never too late.
"The Philippines is taking much of the toll of global warning denial/ignorance in top polluting nations, which just couldn't care less about what poor people in the other hemisphere or near the equator."Noam Chomsky, in his usual nonchalant way, speaks about fracking [5] after indigenous people in Canada, who had immigrated from Asia thousands of years ago, were being crushed for protesting against this attack on their land (by European immigrants) [6].
All that pollution is not without victims. They may be far away, but they do exist. The Philippines is taking much of the toll [7] of global warning denial/ignorance in top polluting nations, which just couldn't care less about what poor people in the other hemisphere or near the equator. A huge number of deaths gets reported [8] (record-breaking levels, due to unprecedented force of typhoons) and it's not even the end of it [9] (yet another typhoon is coming). Sandy (the storm affecting eastern parts of the United States) was hardly a wakeup call because the United States continues to be a world leader in denying climate change. Europe is not much better and even if it can acknowledge the problem it is too slow to react to it. Financial considerations drive policy and the cost of some "poor people" dying in a distant nation is not high enough; their plea is hardly a factor to be weight by politicians, let alone billionaire oil tycoons and their billionaire investors (like Bill Gates).
As usual, among those who try to reduce dependence on oil (fossil fuel), there are open-source proponents [10]. This is really a matter that should be treated as a top priority; it's too bad that Western politicians instead try to distract us with mundane and irrelevant problems. Perhaps the fact that they are lobbied and funded by fossil fuel giants plays a role in this. █
Related/contextual items from the news:
Meteor in Chelyabinsk impact was twice as heavy as initially thought.

In October 2013, Hong Kong officials seized large shipments of elephant tusks from West Africa. The city's border control found 189 tusks, weighing over 1,600 pounds and with a black market value of more than one million dollars. The seizure came about two months after the last major haul of 1,000 elephant tusks from Nigeria, which also contained rhino horns and leopard skins worth more than $5 million.

As if to highlight the recent anti-nuclear sentiments – politicians who will no longer have anything to do with nuclear energy – Japanese tech giants Kyocera opened on Monday what is currently the biggest solar power facility in Japan. The Kagoshima Nanatsujima Mega Solar Plant is 1.27 million square meters of solar panels – 290,000 of them, to be exact – which will be able to generate 70 megawatts of power, able to supply electricity for about 22,000 local households, making it the biggest solar generation plant in Japan.

But indigenous peoples in Canada blocking fossil fuel developments are taking the lead in combatting climate change, he said. Chomsky highlighted indigenous opposition to the Alberta tar sands, the oil deposit that is Canada's fastest growing source of carbon emissions and is slated for massive expansion despite attracting international criticism and protest.

The action commenced at Gansevoort Pier, where activists staged a lock-down against Spectra last year, and marched to the West Side Highway. The fracktivists then deployed a yellow and purple banner stating "Radioactive Gas Shut Down This Highway," and blocked traffic

Estimated death toll soars as path of destruction leaves many parts of Philippines inaccessible to government and aid officials

A senior meteorologist based in the United States said another tropical disturbance is threatening the country, especially the areas already devastated by the havoc of super typhoon Yolanda.

"A tropical disturbance spinning north of Papua New Guinea is expected to track through the Philippines in a very similar fashion to Haiyan (Yolanda) at midweek," Accuweather.com's Kristina Pydynowski said.

Musk did not feel he had the time to develop his idea further, so he made his plans open source, inviting others to work on their execution.
Permalink

Send this to a friend