10.22.21
Gemini version available ♊︎
Summary: Gemini protocol is becoming a widely adopted de facto standard for many who want to de-clutter the Internet by moving away from the World Wide Web and HTML (nowadays plagued by JavaScript, CSS, and many bloated frameworks that spy)
Gemini isn't some old thing. It's actually a new thing, unlike Gopher. It's also growing quite popular.
As Gemini is maturing and ambiguities are being removed (to polish the standard/specification) a new an active repository is being set up, seeing that the founder is busy/caught up with other matters. There's more context here (all replies shown) and interim repository here. There might soon be Usenet newsgroups to accompany the official mailing lists.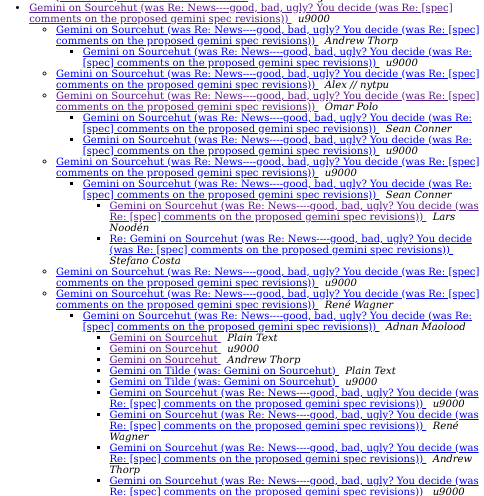 When we first adopted Gemini (start of the year) the project was a lot smaller. The community of developers and users was still smaller, but it's growing fast. Hours ago there was another software release (gmipay) and it is reasonably safe to judge the health of some project/community by the number of developers actively involved. MinceR tells us that "OpenBSD has amfora, kristall and lagrange… also castor…"
"In terms of adoption by users (not just servers, developers and so on), there's that too."Those are some of the major ones. This means that Gemini clients are quickly becoming more widely available. MinceR says "they're in ports, and so far I could install everything I saw in ports via pkg_add, which means there's probably a binary package for all of them…"
GNU/Linux distros also have some.
In terms of adoption by users (not just servers, developers and so on), there's that too. We'll come to that in a moment.
To attract more users we need more so-called 'content'. Quadrupling in a single year would be nice. Here's the chart we shared at the end of last month (it took some effort assembling these numbers, which we put in OpenDocument Format (ODF) for everyone's convenience):
Well, the latest figures say that "[t]here are 1714 capsules. We successfully connected recently to 1395 of them." That's 33 new capsule in the past three weeks or so.
"2021 has been a very good year for Gemini."Lupa isn't some perfect yardstick and it depends on the capacity allocated to it by Stéphane Bortzmeyer. However, it does help assess some trends and traffic in our capsule skyrocketed in recent months. Today (or hours ago) the capsule count officially exceeded 1,700 for the first time. Screenshot below (from Lagrange):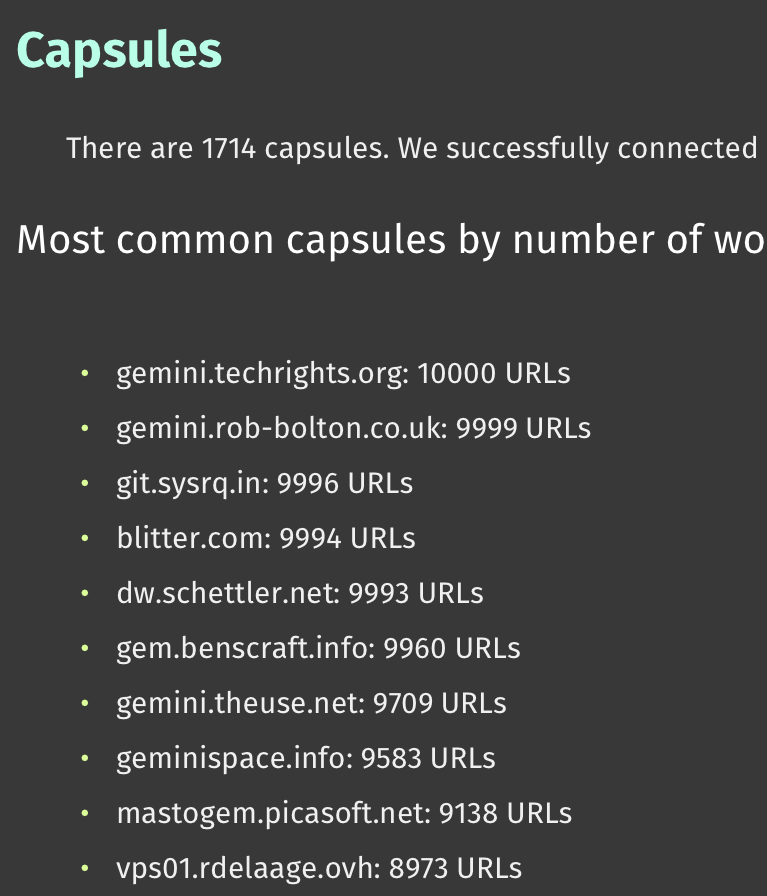 Let's wait and see if that reaches 10,000 (not pages but capsules). That can certainly happen by 2023 if this year's quadratic pace of growth carries on. 2021 has been a very good year for Gemini. █
Permalink

Send this to a friend