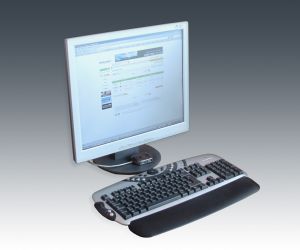 Summary: Microsoft and pet trolls want to carve out a profit from every desktop, tablet, phone etc. even if it does not run Windows; Rick Falkvinge, who used to work for Microosft, calls for the abolishment of all patents
THE ridiculous patent system in the United States is under growing pressure to be scraped or radically reformed. It has become an international laughing stock and at times a national embarrassment. Not every idea deserves a monopoly and some would say that not a single idea deserves a monopoly enforced by the government. According to this new report, Linux-based devices from Motorola are going to be taxed because of some terrible patent:
A Motorola Inc. unit on Tuesday became the latest electronics maker to settle a patent holder's Texas infringement suit over the double-clicking technology used in the Droid and Droid X smartphones and other popular mobile devices.
To provide some context and background, it is the infamous
"Double-Click Lawsuit"
, which is hinged on a patent from a
Microsoft Gold Partner
,
namely
patent #7,171,625
: "Double-clicking a point-and-click user interface apparatus to enable a new interaction with content represented by."
While the USPTO continues to
granted stupid software patents
, patent trolls will get hold of these and tax the market at the expense of every buyer and developer. In a sane system, patent trolls should have no right to exist; they are parasites that are also sometimes used as litigation proxies for larger entities. They are like the mafia mob.
In other news of interest,
"Man Tries to Patent His 'Godly Powers'"
and as Rui Seabra
put it
: "Someone tell me this is an anti #swpat prank and not a for real lunatic..."
Here is
the cited post
:
Godly Powers: A Mystical US Patent Application



I'm going to take a break today from visiting obscure search systems (and writing long 2-part posts) to share with you a delightful patent application that I hold very close to my heart. I usually don't spend my spare time reading the image file wrappers of US patent applications in PAIR, but I will openly admit that I spent a solid two hours one Saturday morning reading the entire file for US Application No. 11/161,345.
Guess what it's all about?
No wonder people wish not to even bother reviewing patents. This whole system is ripe for abuse and it empowers abusers.
If it was up to Rick Falkvinge of Pirate Party fame (the original one, in Sweden), there
would be no patents at all
(software or otherwise). He quotes startup Investors as saying that "Patents are a cancer" and reiterates his points that he made in his talks before (we shared them back in 2009):
One oft-questioned objective of the Pirate Parties is the dismantlement of the patent system, as in scrapping the concept altogether. Patents are a remnant from the guild era that has never served to advance the rate of innovations, but always to brake it in favor of incumbent industries. It should have been killed when free enterprise laws were enacted worldwide in mid-1850s, but wasn't.

The patent system delayed the Industrial Revolution by 30 years, broadcast radio by five to ten years, powered flight by 25 years… I could go on and on. And today, it's no different. The situation certainly isn't helped by clueless politicians who measure "innovation" as "number of filed patent applications", which is about as useful as measuring "economic growth" as "number of smashed windows". It's not just unrelated, the correlation is strongly negative.

This is important: the patent system hasn't derailed just recently. It was always a retardant on innovation. It's just that the pace of ideas has picked up, and so this fact has become much more apparent — and much more damaging.
This truthful statement is somewhat of a taboo in the circles of patent lawyers, who are wagging this dog (USPTO) by its tail. Time for reform or reboot, no?
⬆