11.24.13
Gemini version available ♊︎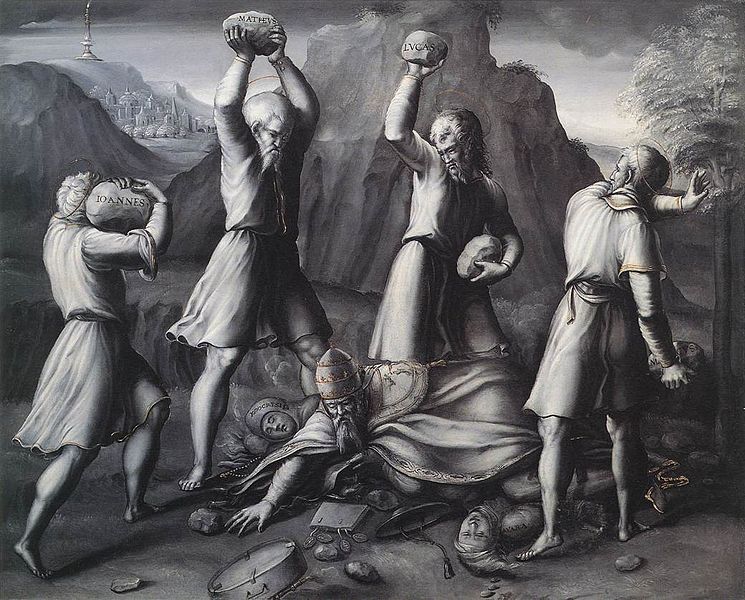 A Protestant Allegory: The four evangelists stoning the pope, together with hipocrisy and avarice
Summary: The definition of hypocrisy matches some of those (high-profile figures) who claim to be against censorship
IF someone criticises censorship and promotes free speech, then it is imperative to see that someone's own response to speech s/he does not like. A lot of people say that they are for free speech only when they defend the rights of those with whom they agree; a lot of people complain about censorship only when their own views are being suppressed or banned. One can only be a champion of free speech when he or she can tolerate uncomfortable messages, sometimes even libel (for which there are solutions other than censorship).
The other day we saw DRM apologist [1, 2, 3] Tim Berners-Lee expressing concern about censorship and lack of privacy [1,2], two things which DRM pretty much assures. So who is he to speak out for free speech and anonymity while promoting DRM? In similar news, see Google's Executive Chairman Eric Schmidt speaking out about the end of censorship [3] — a problem that Google is a part of [1, 2]. Then there's Neelie Kroes, whose "think about the children" mentality and betrayal of net neutrality [4] (which is necessary for free speech) cannot be forgotten when she speaks about "online safety" (common excuse for imposing censorship) [5].
Here in the UK things aren't getting better. There are fresh attacks on free speech in universities [6] and this can be seen a lot more frequently these days when it comes to journalism which touches GCHQ et al. — meaning software vandals, crackers, and saboteurs from the NSA and its ilk (people who break the law under the veil of secrecy and immunity by affiliation with statism). Those in power are also using legal threats in an attempt to silence voices by proxy (via site maintainers) [7], so even those who defend free speech are increasingly being threatened with lawsuits. It is horrifying.
This state of affairs is ill-gotten and we need to find a way out of it. For a start, let's name defenders of free speech who aren't. They're just posers. Sadly, some FOSS sites are also hypocrites on the subject of free speech (we won't name them to avoid embarrassment or infighting). █
Related/contextual items from the news:
Permalink
Send this to a friend